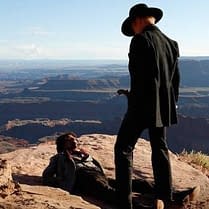 After a number of delays, HBO announced today that Westworld will join its Fall schedule.
The series, based on Micheal Crichton's film about androids in a theme park turning on their masters, is described by the network as "a dark odyssey about the dawn of artificial consciousness and the evolution of sin." Anthony Hopkins, Ed Harris, Evan Rachel Wood, James Marsden, and Thandie Newton star.
The project has had its share of troubles since it was first announced. It was originally planned to debut in 2015, but then delayed. Then came reports of extras being asked to agree to "graphic sexual situations," which, considering the film, isn't all that surprising. The production then shut down in January to "catch up" on the final four scripts.
Of course, Game of Thrones, known for its nudity and graphic situations, also had a rocky start with large parts of its pilot reshot and several actors recast before it aired.
But viewers will have a chance to see if the project was worth the wait when Westworld debuts this fall.
Enjoyed this article? Share it!