HBO Picks up Hugh Jackman-Starrer "Bad Education" out of TIFF
HBO has acquired Cory Finley's Thoroughbreds follow-up, Bad Education, following the 2019 Toronto International Film Festival.
The acquisition by HBO is said to be for $17.5 million–a record-breaking purchase for any film to screen in Toronto. The film team had been looking for $20 million and an Oscar push. This isn't to say that theatrical distributors didn't try to acquire the film. HBO just happened to have the highest bid in a competitive endeavor. Meanwhile, the Bad Education team will have to settle for an Emmy push since a theatrical release is certainly to be unlikely at this point.
Having attended the world premiere during the first weekend of the fest, I can tell you that Hugh Jackman delivers a career-best as superintendent Frank Tassone. He's certainly going to be a formidable contender during next year's Emmys. Allison Janney , who portrays assistant superintendent for business Pam Gluckin, isn't bad herself as she made her return to Toronto two years after appearing in I, Tonya.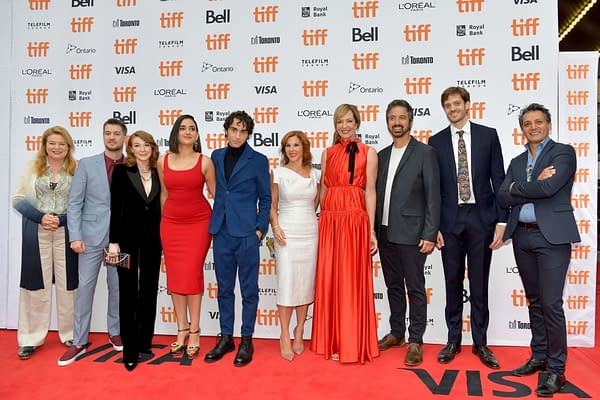 The film is about the scandal that took place in the Roslyn School District in the early 2000s. Led by Frank Tassone and Pam Gluckin, the district was among the most prestigious in the country. Students would go on to attend Ivy League colleges. They had it all and yet everything would fall right under their eyes. This happened because of one student's investigation into finances for the Skywalk project. At first, it gets discovered that Gluckin stole from the district. If this isn't enough, Tassone was also embezzling money. It's a masterclass in acting from both Jackman and Janney!
Finley directs from a script written by Mike Makowsky, who actually was a student in the district at the time that the events transpired. The film's cast also includes Ray Romano, Geraldine Viswanathan, and Alex Wolff.
Produced by Automatik and Sight Unseen. Fred Berger, Eddie Vaisman, Julia Lebedev, Brian Kavanaugh-Jones, Oren Moverman, and Mike Makowsky produced. Executive Producers are Leonid Lebedev and Caroline Jaczko.
CAA Media Finance and Endeavor Content represented the filmmakers.