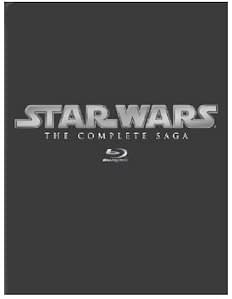 The big Star Wars announcement is happening now at CES. Here's the word from the floor…
You can pre-order the Blu-rays now from Amazon.
There are three different options – original trilogy, prequels, or all six films. Star Wars: The Complete Saga on Blu-ray will be available for $139.99 US, discounted to $89.99 on Amazon right now.
The Original Trilogy
is RRP $69.99 but currently$44.99 US. Same for the Prequel Trilogy.
The Complete Saga comes as a 9-disc set. Are we to assume that the original-originals are going to be on three of those discs? Or will they just contain more supplements? Not clear yet… And besides, I wouldn't sniff at 3 Blu-ray discs filled with extra materials. In fact I'd probably just book a weekend off and get stuck in.
The only announced details of the supplements so far are as follows:
30 hours of extensive special features including never-before-seen deleted and alternate scenes, an exploration of the exclusive Star Wars archives, and much more.
I doubt there could be anything quite as big a revelation as the footage of Darth Vader talking like a Wurzel that showed up on the DVD supplements.
So, that's under $70 for the original trilogy, no prequels included. A bargain? I think I'd go for all six myself but I know a lot of folk won't go anywhere near the prequels.
The UK Complete Saga is to be £89.99, currently £69.99 via Amazon. The Original Trilogy
and Prequel Trilogy
are to be 
£44.99 RRP, currently £33.99.
The first trailer for the set has just gone live at the official site.
And here is an embed of the same thing:
So… no 3D. No fancy cinemascope TV. No real reason to do it with Panasonic except they have a stand at the show. But Star Wars is out on Blu-ray in September, and you'll be able to get either trilogy or the whole saga. Not a bad result. Now… if we could just find out what will be on those three extra discs in the Complete Saga set…
Here's some video from the floor of CES showing you the Stormtrooper circus on a mission to hype.
Enjoyed this article? Share it!