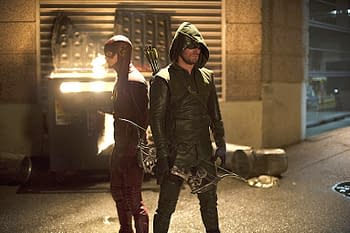 For many years, the structure of Time-Warner — the parent company of Warner Bros. Pictures, Warner Bros. Television, HBO and a number of other companies — was roughly analogous to Westeros. Seven (or more) roughly aligned kingdoms with shifting priorities and political stakes. It meant trouble if, say, Warner Bros. Animation wanted to use the Joker in an episode of Justice League Unlimited, but the character was held "in reserve" for an upcoming film.
Or, more recently, Arrow shifting away from the Suicide Squad as the film shifted into fast development.
The "silo mentality" is an important element in understanding how the company and all its subsidiaries operate. In regard to characters like Oliver Queen, Barry Allen and Kara Danvers, DC Entertainment stood at the center managing the characters like the old Hollywood studio system lending out an actor to a rival firm. But Variety reports, the silo mentality is changing and the television shows based on the DC Comics characters are at the heart of a greater spirit of corporate synergy.
According to the report, the change began shortly after Warner Bros. chairman-CEO Kevin Tsujihara took the Iron Throne (if you'll forgive the Westerosi metaphor). At an early meeting, he announced DC Entertainment's properties, previously all regarded as first dibs for Warner Bros. Pictures, would be available to all the divisions.
Soon after, Tsujihara began to hold bi-weekly DC strategy sessions with DC Entertainment's Diane Nelson and Geoff Johns, Sue Kroll and Greg Silverman of Warner Bros. Pictures Warner TV's Peter Roth.
The results were most immediate on television, with multiple DC properties now appearing three nights a week. Soon, DC's Legends of Tomorrow will bring that number to four. And while each division is mindful of what the others are doing, they are free to develop ideas independently.
"If there are any issues or sensitivities, we hash it out in the room," Nelson told Variety. "It no longer feels like a hierarchical situation where film will trump television."
That change in hierarchy is also spreading to non-DC related projects and divisions. HBO and Warner TV co-produce "The Leftovers," which appears on the premium cable outlet. Warner Bros. Animation now produces more content for sibling Tuner Entertainment's Cartoon Network than ever before.
Of course, there are still hiccups, like the removal of the Suicide Squad from Arrow, but the companies in the Warner family are embracing a change in their mentalities guided by streamlining the use of DC's assets.
"We are all facing different challenges, creating a real urgency for us to work together," Tsujihara said. "I think the cultures of each of the businesses are changing, and the culture of Time Warner is changing."
Enjoyed this article? Share it!