It's been looking like another run at The Man Who Killed Don Quixote has been coming together, and Terry Gilliam has gone so far as to share a start date and (a few weeks ago) some concept art.
From Gilliam's Facebook page, here's an image by production designer Dave Warren.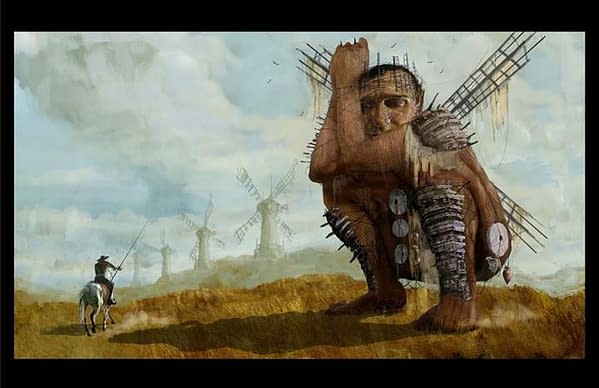 That came with the caption:
Dreams of Don Quixote have begun again. Dave Warren has started doodling. Will we get the old bastard back on his horse this year? Human sacrifices welcomed. Stay tuned.
Warren was one of Gilliam's collaborators on Zero Theorem. Here are a couple of his pieces from that film.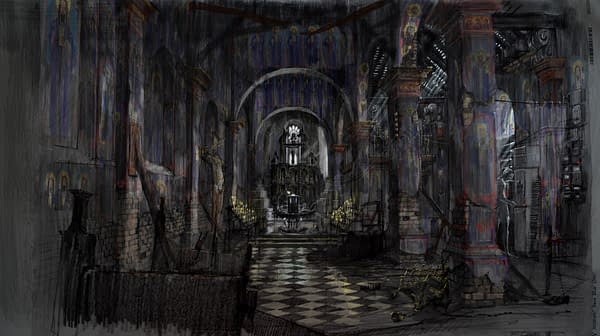 You can see more at Dreams, Phil Stubbs' splendid Terry Gilliam fansite, along with an interview with Warren.
What makes this new promise of Quixote so compelling is that Gilliam has gone so far as to give a production start date and location to Empire: September 29th, the Canary Islands.
The new producer is Buried and Grand Piano's Adrián Guerra. I propose a toast to the man.
Of course, Gilliam has made it clear that the road ahead won't be perfectly clear:
…we've still got to cast it and get the money but other than that, that's the deal.
Robert Duvall is still in, as Quixote, but the lead role of Toby Grossini, 21st century man displaced into 17th century literature, appears to be vacant. It's a cracking part and whoever Gilliam calls should jump at it. I hope they do.
Between now and Quixote, Gilliam has The Zero Theorem opening in UK cinemas on March 14th. A lot more about that soon, I'm sure.
Enjoyed this article? Share it!