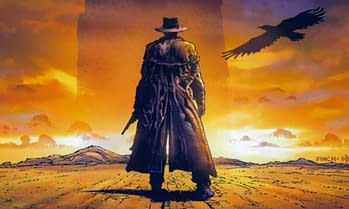 Though it seemed actors Idris Elba and Matthew McConaughey were set to star in the upcoming adaptation of Stephen King's The Dark Tower, the duo — and indeed the project — were not locked. Deals were not completed, but everything seemed likely. And now, there is confirmation.
King and director Nikolaj Arcel offered Entertainment Weekly a few details about the project, including confirmation that Elba and McConaughey will play gunslinger Roland and the Man in Black, respectively.
According to King and Arcel, the story will not be a direct adaptation of The Gunslinger, the first Dark Tower novel. Neither would say which book in the series would be the primary source, but Arcel touched on the modern day aspect, offering a clue to readers.
After a number of false starts and ambitious plans — including a film and television series shepherded by Ron Howard — the project is currently envisioned as single film with the possibility of more should it be successful. "Other people have tried fantasy spectacle. Sometimes it works, sometimes it works really well when it's based on a series of books, like The Hunger Games or Harry Potter, and sometimes it doesn't," said an understandably cautious King.
The Dark Tower opens on Jan. 13, 2017.
Enjoyed this article? Share it!