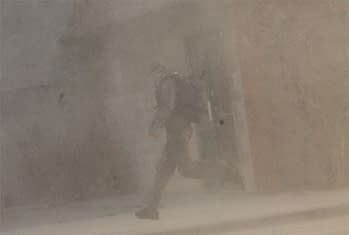 There are a few things that were officially announced about Interstellar – that Chris Nolan is directing, that Matthew McConnaughey is starring, that there's a wormhole involved, that kind of thing.
Then there's a few things that weren't announced but which I've picked up here and there behind the scenes – like which character is the "villain," for example, though I won't spoil that here, it might just be a big surprise reveal. Or that Michael Caine's character is the father of Anne Hathaway's character.
And then there's stuff that's bubbled up in reports from around the shoot. First of all, there was a story just a couple of weeks back, telling us that the film was something to do with corn.
The Fort McLeod Gazette (via JoBlo) said:
Set in the future, the movie details the toll climate change has taken on agriculture, with corn the last crop to be cultivated. The scientists embark on a journey through a worm hole into other dimensions in search of somewhere other crops can be grown.
And there were some pictures to back up this agrarian element, or at least show us some folk wearing face masks during a sandstorm in what could well be a farming community.
That portion of the production has wrapped, with Nolan and crew since moving on to Iceland. It's a spy report from this new location that seems to provide the most significant pieces of the puzzle so far.
I'm sure you're not surprised that filming has taken place over there in Iceland; it's really become the go-to destination for studio sci-fi pictures. Iceland is to big budget sci-fi as quarries in Wales are to the low budget variant.
According to Desde Hollywood – and things could be getting really very spoilery here – the shoot in Iceland revolves around a spacecraft crash:
Iceland, has already seen major action: A Spaceship crash! Knowing that Nolan doesn't work with a second unit I assume that he directed the sequence created with practical effects. One that may play an important part in the story.

I am also told that models for some sort of Drones have also been created.

Now, are you ready for the most intriguing part of this scoop? A bigger aircraft will be featured. Something my source refers to as The Mother Ship.
Drones, space craft of varying scales and crashes all sounds like stuff that would happen through the wormhole.
I think it would be more than reasonable to assume that Iceland plays either an alien world or the Earth of the very distant future or past, but I wouldn't like to hazard a guess at which. Perhaps the answer to that is the key to understanding what Interstellar really is, how much of it is Planet of the Apes and how much is Contact.
Enjoyed this article? Share it!