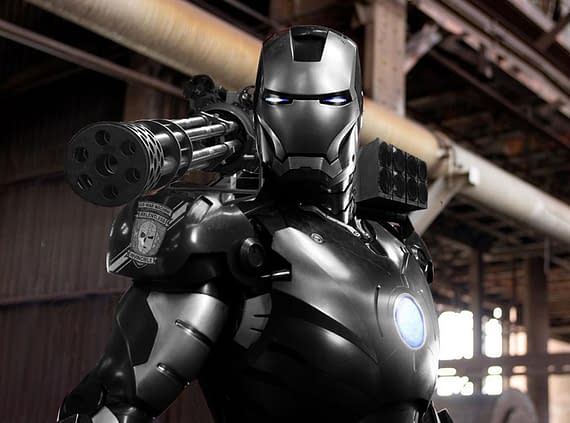 How and where it would fit into Marvel's masterplan I do not know, but there's some talk about giving War Machine his own movie. I'm sure I don't really need to spend much effort on explaining who that character is, so here's no more than a really vague, cursory description:
War Machine is Iron Man's mate James Rhodes kitted out in an old Iron Man suit. He was played by Terrence Howard in film one, now Don Cheadle has the role.
There's an Iron Man 3 and an Avengers coming along, and I'd imagine that Rhodes will show up in the former at least. Then a War Machine stand-alone might prove a slightly cheaper way to branch off of the series for another movie, so I can't say Im surprised Marvel are at least exploring the option.
According to Pajiba's semi-legendary Hollywood Cog*, the proposed project is currently inviting pitches from writers. It's a first step. Will there be a second step? A third? Will War Machine come trotting out of the gate? Only time will tell, but don't be surprised if he does.
My first question, I suppose, is if there's any good, pre-established War Machine plot lines that could be used as a template?
*I refuse to believe this Hollywood Cog is just one person. He may also be a fictional personification of anything and everything that the Pajiba crew can glean from tracking boards.
Enjoyed this article? Share it!