Back in August, Zack Snyder told the world that his next picture, Sucker Punch, was now going to be released only in 2D, not the previously announced 3D. He said:
We really were considering it. But we had seen a bunch of tests and conversion didn't sit with me that great. Without being baked in, it just felt a little weird. But they also showed me a test of 300 that was pretty awesome. But it didn't feel right for this movie. It's in eye-numbing 2D, which is also awesome.
The film went from 2D to 3D in just a few months, then in just a few more back to 2D again. Have plans for the film just flipped it into stereo once more?
Maybe. I took receipt of the February BFI program booklet today, and tucked away in there was the following advertisement: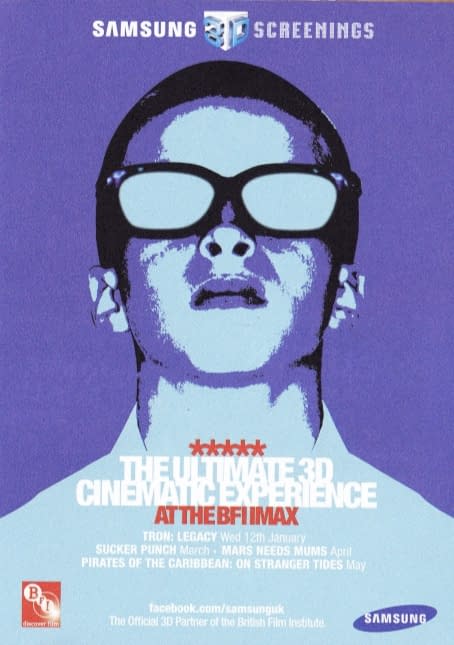 So, right there, between the shot-in-3D Tron: Legacy and Pirates of the Caribbean: On Stranger Tides, right next to the proudly, loudly stereographic Mars Needs Moms, is none other than Sucker Punch, booked in to play as part of a season of 3D films.
Could Samsung and the BFI really be so far behind the curve? Well… yes. I suppose they could be, if this program was booked that far in advance. For now though, during the quiet Christmas-to-New-Year lull when there's not really anybody in press offices to answer such questions, I'll be wondering – will Sucker Punch be coming at us in 3D after all?
UPDATE: I wondered, and now I know. While the UK press office for Warner Bros. is closed until next Monday, I have succeeded in getting word out of their US… er… cousins? Officially speaking, Sucker Punch is not undergoing a conversion to 3D. They are saying that the film was "never" planned for 3D, but what that means is that it wasn't originally planned for the format. They did plan to upconvert at some point, but that idea has, indeed, been scrapped.
Shame they didn't scrap the marketing materials at the same time, eh?
Enjoyed this article? Share it!