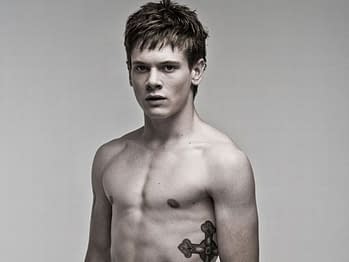 I've not been able to surround this with sources on every side but two very dependable voices have harmonised, and we'll go with that for now.
Jack O'Connell, who was excellent in Tower Block, Harry Brown, Skins and many more, is a real contender for a key role in Star Wars: Episode VII. I believe that he's met with Abrams and the signs I'm getting are that this meeting went very well.
Meanwhile, I… I don't think I can name a single American who's in with a real shot at one of the new parts. We've heard about Saoirse Ronan, Chiwetel Ejiofor, Benedict Cumberbatch, Matt Smith, Rachel Hurd Wood, Jason Flemyng. Rule Britannia, I guess.
I've been trying to ascertain if O'Connell's role is the same one Matt Smith was up for, or indeed the same one that has been subject to open casting calls, and I can't say that I'm sure.
O'Connell will next be seen in 300: Rise of an Empire, Starred Up and as Louis Zamperini in Angelina Jolie's Unbroken. I hope he can add Star Wars on to the end of that list too; he's certainly a very talented young man with a really, genuinely intense screen presence.
Enjoyed this article? Share it!