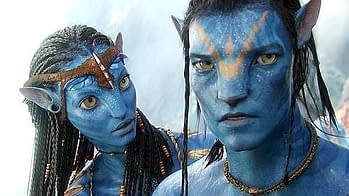 This Friday, Titanic returns to the big screen in a rather impressive new 3D version. Yesterday we had a masterclass from the film's writer-director James Cameron and producer Jon Landau on how to handle a 2D to 3D conversion correctly, and what the process can do for an audience.
Today, let's take a little detour and talk about their other Most Successful Film of All Time, Avatar. Or perhaps more accurately, its two upcoming sequels, theme park, novel, comic book, TV and animated spin-offs. Sounds like there might be an awful lot of Avatar coming our way over the next five years or so.
Here's some of what James and Jon had to tell me about their imminent return to Pandora.
Jon Landau: We have a facility we've taken over, Manhattan Beach Studios, which we're turning into a state of the art performance capture facility with a much better tool set than we had the first time.
We're already working with Joe Letterri and his Weta Digital team. We're making the facility as eco-friendly as possible. We've put solar panels on the roof, we've gotten rid of plastic water bottles, the lights are on motion sensors and can't come on unless somebody is in the room.
We have already made a commitment that the Avatar sequels will have underwater sequences, inspired as much by time Jim has spent scuba diving as his expedition to the Mariana Trench. And we're working on a way to do performance capture underwater right now. We have some really good people working on that. We set the problems, bring in people and say "Attack it. Here's what we want to do, and we believe you can do it" and then we just have to get them to believe they can do it too.
James Cameron: Most of the work that's being done right now is foundational. It's rewriting the code and building the software tools, it's not the creative work with the cast. That doesn't start until later this year.
We kind of reinvented the wheel with Avatar. Now it's more refining the process. The story will be completely new and fresh with new characters and environments and creatures, but the actual methodology will be the same.
Jon Landau: We will continue to follow Jake. It will be Jake and Neytiri together but there will be other characters that come in, both on the good side and the bad side. We will explore parts of the world you haven't seen before. It's fun and exciting.
James Cameron: Laeta Kalogridis collaborated with me on a few scenes in the first Avatar, but she never really wrote drafts. I wrote the story, I wrote the first draft, she came in to help me solve a couple of narrative problems that I was having. I was having some problems just getting the story kickstarted and she had some good ideas. She wrote a line or two here or there, but it was pretty much a solo effort. I'm writing the sequels by myself.
But we're good collaborators. She had written the Battle Angel script and we work really well together. If I go shoot Battle Angel I'll be shooting the script she wrote.
Jon Landau: We've hired a woman by the name of Kathy Franklin, who will be based at Lightstorm, not at the studio, who is in charge of franchise development for us. She's working out how we're going to build the franchise between now and the sequels, then between the sequels and after the sequels. At the studio, they're worried about tomorrow's crisis. There's no long-term thinking, so we brought the long term planning under our roof. We want to deliver to the fans what they're looking for.
The novel is something that will unlock the door for us to develop the property in other ancillary markets – graphic novels, television, animation. Entertainment today goes beyond any one medium and with Avatar we have an opportunity to continue and expand the story of the world in all of these other media.
We're building a themed land with Walt Disney theme parks. Not just a ride, but a whole world where people will get to return to Pandora. This is initially going to be down in Orlando at the Magic Kingdom and what they've decided to do is not to put it at the Hollywood Studio but at The Animal Kingdom. The Animal Kingdom is about worlds, and the studio is about movies. This is about a world. We have some exciting ride development, and there's going to be a multiple number of attractions there, and food and retail.
Jim is definitely hands on with it all. Hands on with the design of it, hands on with what it's going to be about. I don't know if Jim will pick up a camera for the film elements of the attractions but he's very involved in the story that's going to be told.
You can see Titanic 3D, or indeed Titanic 2D, back on the big screen from this Tuesday. Coming later in the week: more from James and Jon, and also a little something from Billy Zane.
Enjoyed this article? Share it!