Django Unchained offers a vast array of talking points and interesting avenues for interview, but as Jamie Foxx makes his way around the media to discuss it, he's also taking a little time out to answer questions on his upcoming big gig as Max Dillon, the man who becomes Electro in the next Spider-Man movie. As long as there's also some time for a bit of smart Django discourse, I'm alright with this.
Now. There are minor spoilers ahead, but I wouldn't worry too much.
Foxx talked to both Black Film and MTV about his Electro costume and revealed that the filmmakers seem to be erring closer to the Ultimate look:
It won't be green and yellow. It will be a different color. They want something for the future. They want to have it more grounded and not as comic book-y, so it won't be green and yellow. They want to try new things, like a liquid rubber and things like that, and there are all these bolts and stuff in my arms when they are hanging me upside down and trying to figure out what [happened]. How did he become this way? So, it will be some new stuff…
The suit is really slick. It's actually black. It's a new age.
Something like this, then, perhaps?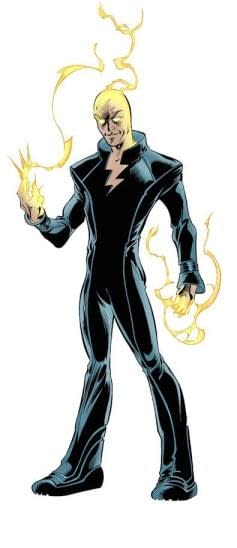 But what's this about him being hung upside down? Who, exactly is doing that? Norman Osborn, I'm looking at you.
Foxx also spoke to MTV about the character's new origin story:
You'll see that in his whole life, no one is talking to him. People have stolen his ideas at the big company. He's a nobody. At a certain point, Spider-Man bumps into him and says, 'You're my guy. You're my eyes and ears on the street. And he says his name — no one has ever said Dillon's name… He sort of starts thinking that somehow, he's Spider-Man's partner.
And then what? Well, apparently he mistakenly comes to believe that his own Mum has forgotten his birthday and this, somehow, sets in motion the course of events that turn him into Electro.
No, really. That's the next Spider-Man movie and not an episode of The IT Crowd.
MTV don't describe these birthday/mom related plot points in any details, which is probably for the best when it comes to Foxx's job security, but do quote him in calling them both "crazy" and "tragic."
I can see that already from just the details we have.
This Amazing Spider-Man sequel starts shooting in the new year. I think that there's a lot to be learned from the last film, but that Marc Webb and Sony could well have learned it. And I certainly look forward to seeing this cast together.
Enjoyed this article? Share it!