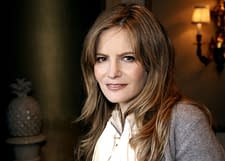 Actress Jennifer Jason Leigh is reportedly joining the cast of Twin Peaks. Deadline reports Leigh has been spotted on the set of the new show's Mojave desert location with actors Kyle MacLachlan and Sheryl Lee.
The revived series, with its mysteries about the Black Lodge, Judy, and other obscure goings-on, has been keeping info under tight wraps; confirming only MacLachlan as the star.
According to various reports, actors like Balthazar Getty, Robert Knepper and Robert Forster will appear in the new series, which picks up the story of Special Agent Dale Cooper some 25 years after the death of Laura Palmer and his possession by Killer BOB.
The new series is expected to air on Showtime in 2017.
Enjoyed this article? Share it!