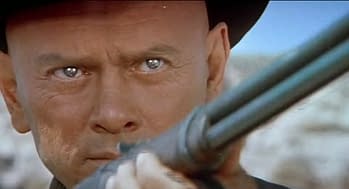 Deadline are calling HBO's deal with Bad Robot for a new Westworld TV series one of their biggest ever commitments. I don't know about you, but that just makes me curious about numbers.
Let's put that aside, though, and focus just on the creative side of things. This shouldn't be about cash. I shouldn't let Deadline pollute my mind like that.
So. Westworld will, quite obviously, be based upon the 1973 movie of the same name by Michael Crichton. HBO appear to have described it as being:
as a dark odyssey about the dawn of artificial consciousness and the future of sin.
…though Deadline may have paraphrased.
But in more practical terms, it's about a Wild West theme park "land" where the robotic attractions become self aware and dangerous.
The most indelible images in the original film pretty much all feature Yul Brinner as a Wild West bot, emphasis on the wild, but the theme park, Delos, also featured a Roman World and a Medieval World. I expect they'll factor into the TV version too, and there could even be a riff on Futureworld, as seen in the film's sequel… er… Futureworld.
There was already one TV series derived from the films, a kind of sequel called Beyond Westworld. I don't think I ever saw so much as a second of it.
Jonathan Nolan is set to co-write and direct the pilot with Lisa Joy also contributing to the teleplay. There's just a pilot on order so far but don't be surprised to see this one run and run.
I always found Michael Crichton a bit of a reactionary though there's a lot of fun stuff in his sci-fi ideas. Perhaps a TV version will give lots of interesting writers and directors a chance to play in his theme park, as it were. We could see a lot of interesting stories come out of this.
Here are the Westworld and Futureworld trailers, just to send you off to your DVD shelves. You know you want to.
[youtube]http://www.youtube.com/watch?v=pmbYjVy9Xcg[/youtube]
[youtube]http://www.youtube.com/watch?v=lTMtu4Z5T-U[/youtube]
Enjoyed this article? Share it!