Despite the plans for his new film to be converted to the format, JJ Abrams does not appear to be a huge fan of 3D – thoug he's certainly spoken out about his interest in IMAX. Couple that with Paramount's recent success with Mission: Impossible – Ghost Protocol on the superscreen circuit, and it becomes quite unsurprising indeed that the currently shooting Star Trek sequel will, in some shape or form, capitalise on an IMAX release.
Going beyond the basic "blow up", in which a film not shot for the format is digitally up-rezzed for the bigger screen (see: Skyfall), it seems that Star Trek 2013 is at least going for the Mission: Impossible approach, first seen with The Dark Knight, of having some key sequences shot on the fat-gauge format.
We know this from a very clear image of an IMAX camera on the set during the big Cumberbatch rumble that they've been filming.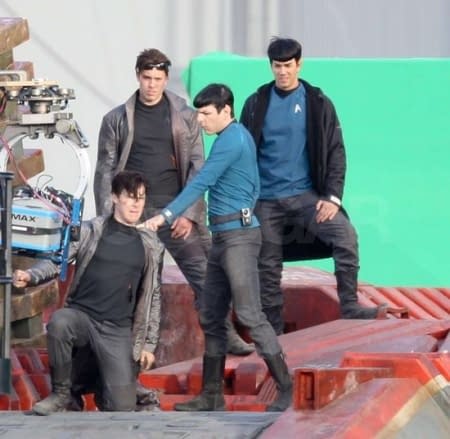 Now, there's some possibility that the whole film is being shot in the IMAX format. That would be a pretty disruptive play, much like Christopher Nolan's original choice to employ this novelty of changing film stock and aspect ratio in The Dark Knight. I'm sure it would start a trend, for a while at least.
But it's just some possibility. Some minor possibility. I'm certainly not betting on it. So, let's expect some Batman-style shifts in the aspect ratio instead.
Now, I'm really not sure of the ultimate wisdom of drawing so much attention to the actual, physical screen and the mechanics of its projection by changing the image shape like this, not when you're trying to creative a narrative, with characters, in at least a quasi-naturalistic fashion. Still, it's what a certain club of filmmakers are really into, it seems.
I'm rather more convinced by 3D. But that's a debate for another time and – ironically enough – I could more or less already see the insults hurtling out of the screen at me as I typed those very words.
Trekmovie spotted the IMAX camera in some pics from Pop Sugar.
Enjoyed this article? Share it!