Legendary filmmaker and musician John Carpenter isn't slowing down anytime soon, and we love him for it. Having caught his tour back in 2017, we can say he's still got the energy of a man 30-years his junior, and continues to keep busy. He's probably most well-known for his directing, a slew of classic titles that are still pointed to today with admiration and ground-breaking legacies. Halloween, They Live!, The Thing, Escape from New York, Big Trouble in Little China, and Starman just to name a few.
"Every director makes films with creativity. You should be kind to directors. We need your love," Carpenter says.
In a recent chat with our friends over at Collider during Cannes International Film Festival where he was awarded the French Directors' Guild's Carrosse d'Or Award, John spoke a bit about all the things on his mind currently- from US President Trump, religion (or lack of it), horror as a genre, and what's on the horizon for projects.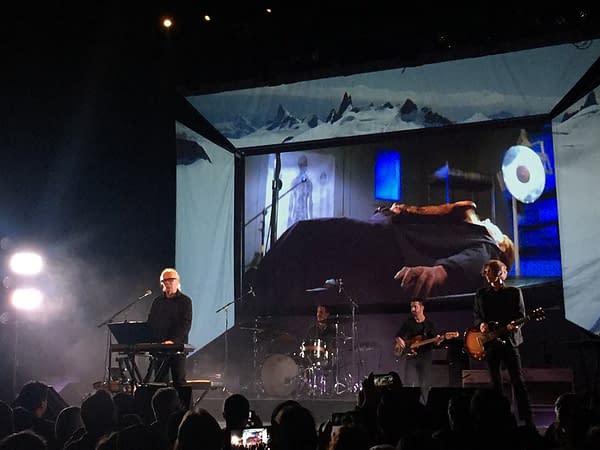 "Genres always change. Horror has been with cinema since the very beginning and every generation makes it with their own sensibilities and fears," Carpenter says of the genre he's most recognized for. "It will always be with us because every human being is scared. We were all born afraid. We're afraid of our own death–every fear you have I have. It's universal. Humor isn't always universal. Fear is. That's why horror is so incredible."
Collider asked Carpenter if he would possibly consider doing a film with the current state of American politics as a background horror element.
"No. It's too real and awful. I truly am scared for my country right now. We're in really dangerous times.

I'm really afraid he won't let go of power. He's laid down the red carpet for bigots, for people I knew when I was young in the South. He's turned over the rock and the things that crawl out! And they're not ashamed. That scares me. There's cruelty, there are killings, there's hatred of other people, of immigrants. But I think that's worldwide. Why did this come back?"
As to what's next for the 71-year old? No current films on his roster.
"I don't have one scheduled but I'm working on things. I made a lot of movies and I got burned out and I had to stop for a while. I have to have a life. Circumstance would have to be correct for me to do it again. I'd love to make a little horror film that would be great or a big adventure film. It would be a project that I like that's budgeted correctly. Nowadays they make these young directors do movie for $2 million when the movie is written for $10 million. So you have to squeeze it all in there and I don't want to do that any more."
But what about a possible tv project?
"I would do one."
Yes please!
What's your favorite Carpenter title?
Enjoyed this article? Share it!