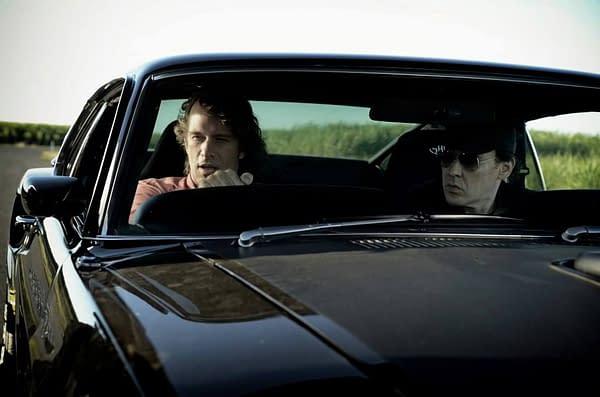 Brian Trenchard-Smith really knows how to direct action. He made some truly wonderful action films in the seventies and eighties, films such as Stunt Rock and The Man From Hong Kong, and his latest film looks set to feature a great deal of automotive action.
Starring John Cusack and Thomas Jane, the film began shooting on the 4th of June and wrapped on the 29th, if I've got my maths right regarding the time difference between here and Australia, according to an update Trenchard-Smith provided on Facebook:
Shooting has concluded on HARD DRIVE, now retitled, due to some pesky new Canadian film of the same title, DRIVE HARD. John Cusack and Thomas Jane had great comedic chemistry, the stunt team under John Walton really made those cars fly. Looking forward to the editing.
Odyssey Media Inc. have shared some images from the film on their Facebook page and they seem to give us a pretty good idea of what to expect. The one at the top of the post features Cusack and Jane in car with Jane behind the wheel and Cusack behind the shades, and then we have two more, one featuring the same car surrounded by bikers and another of Cusack doubling up on handguns.
Cars 'flying', bikers, Cusack taking a John Woo approach to firing guns and Brian Trenchard-Smith directing. I can't wait.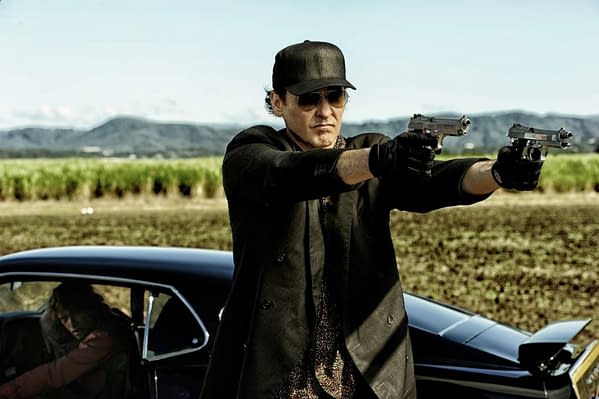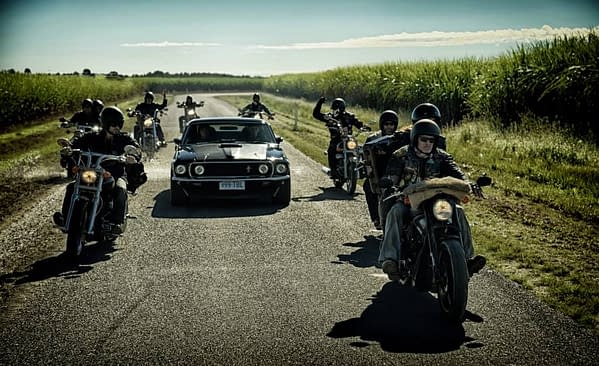 There's a plot blurb for the film too from Odyssey Media Inc. which they posted around a month ago when it was still titled Hard Drive. They didn't waste the chance to weave the title into the description of the plot, an approach I also adopted for my headline, so I guess they'll be slightly adjusting the synopsis soon to take account of the new title.
With a heist in mind, a mysterious American called Keller (John Cusack) arrives in Brisbane needing a getaway driver. Rather than recruit one from the local underworld, he tricks a driving school instructor, Roberts (Thomas Jane) into taking the wheel. Keller chose well, Roberts just happens to be a washed out Formula-One driver. Chased by the cops and the mob, Roberts is forced to use his racing skills to evade pursuit on a Hard Drive that takes the two along the Gold Coast of Australia.
According to Inside Film Brian Trenchard-Smith isn't showing any signs of taking a breather from filmmaking once he's finished Drive Hard and is already shopping around a new project. This film is entitled Sword Point and is described by Inside Film as "a drama about an injured Chinese gymnast who takes up fencing in a bid to realise her dream of representing China in sport."
He's intending to make Sword Point as a co-production between Australia and China in what is, I'm sure, a pretty shrewd move considering China's growing importance as a market for films, and I'd be very surprised if he didn't find raising the money there a lot easier than in America.
No word yet on a release date for Drive Hard but we shall bringing you more news on this as soon as we have it. There's at least two of us at Bleeding Cool that are heavily anticipating this film.
Enjoyed this article? Share it!