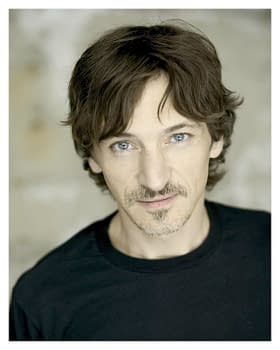 As well as recently speaking to John Hawkes about the DVD and Blu-ray release of Robert Rodriguez' Roadracers, we also talked more generally about his work as an actor, and specifically about a couple of his upcoming films.
Later this year we'll be able to see him in The Playroom and also The Surrogate, which comes with this basic blurb:
A man in an iron lung who wishes to lose his virginity contacts a professional sex surrogate with the help of his therapist and priest.
To get a better handle on that, reputedly remarkable film, read on for a transcript of everything Hawkes had to tell me.
I look for great material. To begin with, a really great script, then a capable storyteller directing the piece, and then a role I think I can do something with and be of value to the story in. If the director is a storyteller, either in a utilitarian way or a more individual way, as long as the story is great, that's all I care about. When I look for really great stories they can often centre around directors that have their own style, but it's not a requirement.
The Playroom is done and in Tribeca. I saw an early cut and I liked it a great deal. I'm not the main character, it's really about the kids more. I think Molly Parker is terrific in it, as she always is, and it was one of those tiny little movies shot for nothing, but I just loved the story. It was a script I had liked for several years.
The Surrogate was a movie at Sundance that I have the lead role in. That was really well received, and I'm interested to see what the world makes of it. We're all hoping it sort of disappears for a few months and people can find it on their own when it comes out, but there's quite a number of good reviews but I hope people will see the movie with fresh eyes. It's a beautiful piece of work and I'm playing a really inspiring character, Mark O'Brian, a real life guy. The movie's strength is that it doesn't pander, it doesn't go for sentiment and it ends up being really moving because of that. The character tries to solve his problem throughout rather than just wallowing in it, and you never want to play self pity as an actor. The situation in the film is so fraught but I feel like we avoided piling on any kind of false sentiment.
I'm not playing John F. Kennedy here, he's not a figure that the world knows but it was important to attempt to replicate his accent, his timbre, his rhythm. And it's really great for me to work very specifically. If I didn't have Breathing Lessons [a documentary about O'Brian] I would have picked a really specific approach that would have been different. Jessica Yu made such a brilliant movie there [in Breathing Lessons]. It's a beautiful, beautiful piece. That film was invaluable. I leaned on it very much.
I worry about people watching Breathing Lessons and the Surrogate. I don't want them to be comparing. I'd rather they just experienced our movie on its own. I do want people to see Jessica's film but to put them side by side makes me feel a little nervous. I met Jessica Yu several times and she was kind enough to answer questions. She saw The Surrogate in Sundance and I was relieved that she find the film really good. She was an audience that I was aiming to try to satisfy.
I have no acting training, no formal training at all, but I did theatre for years and I did read all of the books. I think Stanislvski said "generality is the enemy of all art." You need to make things your own and individual when you work on them, you don't want to imitate what has gone in the past. I think specificity is essential to trying to create something of interest, something that breaks rules and shows another side of stories that we might not have thought of.
I'll keep you posted on the releases of these films.
Thanks again to Mr. Hawkes for taking the time to talk to us, and if you haven't checked out his recollections of working on Roadracers yet, please do.
Enjoyed this article? Share it!