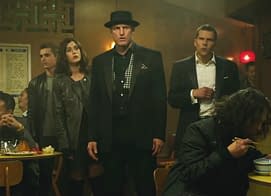 Though the release of Now You See Me 2 is still two months away, Lionsgate has already secured the services of director Jon M. Chu for a third installment, according to Variety.
The first film — starring Jesse Eisenberg, Isla Fisher, Woody Harrelson and Dave Franco as bank-robbing magicians — debuted in 2013 and became a surprise hit with a $351.7 million worldwide gross. The second film sees Eisenberg, Harrelson and Franco return to match wits with Daniel Ratcliffe. Lizzy Caplan replaces Fisher, who was pregnant at the time of production. Mark Ruffalo, Michael Caine and Morgan Freeman also reprise their roles.
It is unclear how many members of the cast will return for the third installment, but their next adventure together debuts on June 10th.
Enjoyed this article? Share it!