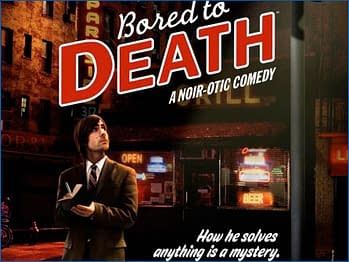 Bad news came on down from HBO today with Bored to Death today receiving its final notice after just three short seasons of eight episodes apiece – barely more than, say, Yes Dear churned out in each one of its six years on air.
But the show's creator and chief writer Jonathan Ames does not want us to mourn the show, but rather to toast it. Here's his invitation to, effectively, a wake for the programme, as published by Gothamist:
I invite all fans of Bored to Death to come to the Brooklyn Inn tomorrow night, Wednesday, and I'll buy you a drink. John Hodgman will be joining me and perhaps other local New York City actors from the show will be there, and we can all toast Bored to Death and a completely loony and improbable three-year run.
I won't be there but half a world away, though I hope it goes well and the right kind of people turn up and Ames doesn't have to slip back into his pugilist ways just to make it out alive.
To Death, okay, but never Bored. It will be missed.
Enjoyed this article? Share it!