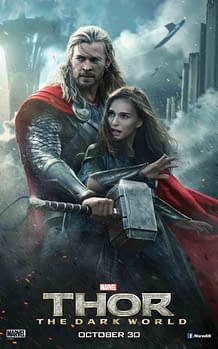 New Thor director Alan Taylor has been speaking very openly with SFX magazine, explaining how Marvel called on their biggest gun when they really needed an extra big blast.
Here's a snippet from the magazine's interview feature, courtesy of  the fans at Thor Movies.
Joss came in to save our lives a couple of times. We had a major scene that was not working on the page at all in London, and he basically got airlifted in, like a SWAT team or something. He came down, rewrote the scene, and before he got back to his plane I sort of grabbed him and said "And this scene and this scene?" and he rewrote two other scenes that I thought had problems.
Good man. This being public knowledge, of course, means that we'll all be playing Spot the Whedon when the film is released, and that Taylor will face junket grilling about which scenes in particular received the magic touch.
Taylor nailed the essential qualities of what makes Whedon's writing work when he added:
And we shot the scenes and they were just much better and much lighter on their feet. Much more fun, much more surprising than what we had been trying to do.
You'll see this when SHIELD airs next week. Even when there's a simple straight line Whedon could take, he always adds a little flourish, and all of them well judged and tasteful.
Thor: The Dark World is released on October 30th here in the UK and on IMAX screens globally. The main US release follows on November 7th.
Enjoyed this article? Share it!