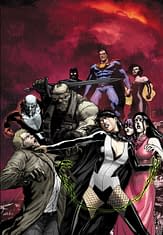 Despite the departure of writer/director Guillermo del Toro, The Tracking Board reports Justice League Dark will continue under the guidance of producer Scott Rudin.
First announced in 2012, the film is said to bring together notable magic users from the DC Universe, including Swamp Thing, Zatana, Deadman and Etrigan. Though the plot has always been secret, The Tracking Board hears the film will involve "a series of ancient tomes stolen by a madman hellbent on the destruction of humanity." When John Constantine learns about the madman, he plays Nick Fury to the mystical group, assembling them to confront the threat.
Rudin has produced such films as The Social Network and Steve Jobs. It is hoped the film will be in production in 2016. No director or cast are yet attached to the project.
Enjoyed this article? Share it!