Kathleen Kennedy Talks 'Solo' with Entertainment Weekly
Many Star Wars fans are *gasp* shockingly torn over the first teaser trailer released for the upcoming standalone film, Solo: A Star Wars Story about our favorite galactic smuggler.
If you missed the teaser trailer, here you go:
Anyhow, in this week's issue of Entertainment Weekly, Solo is the cover story, and within the pages there are some words about the film from Lucasfilm President Kathleen Kennedy.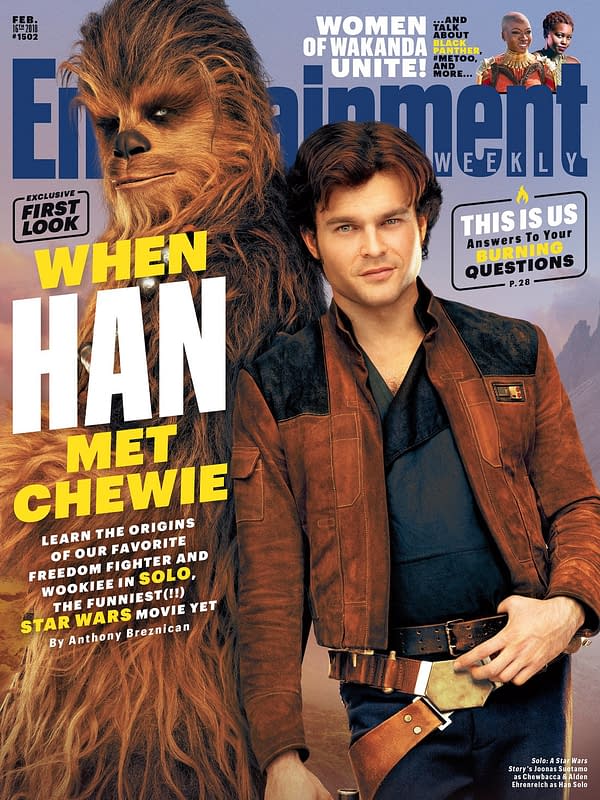 Kennedy describes Solo the film as "a heist, gunslinger type movie."
"He might be a little more immature, he may be a little less experienced, and he may hone his cynicism over time, but he's very wary. He needs to gain the respect of the people he interacts with, even if they're the lowest of the low."
We do know that in the action in this film, Han will meet his longtime co-pilot Chewbacca (Joonas Suotamo) for the first time, reportedly he'll fall HARD for Qi'ra (Emilia Clarke), and perhaps the most anticipated meeting- Lando Calrissian (Donald Glover). There will of course be some droids, in this instance L3-37 (mocap performance by Phoebe Waller-Bridge), who is listed by EW as Han's "sidekick".
On the smuggling side of the story, we've got Tobias Beckett (Woody Harrelson), badass Val (Thandie Newton), and crime boss Dryden Vos (Paul Bettany). Theoretically these characters will help fill in the shadowy past of Han, and maybe explain why he is the way he is.
It won't be as simple as good and bad guys in this film, a lot will be up to the audience to decide. "I think that's exactly what Han's trying to do throughout the film," Ehrenreich said about this very subject.
Solo: A Star Wars Story is set to hit theaters on May 25th.