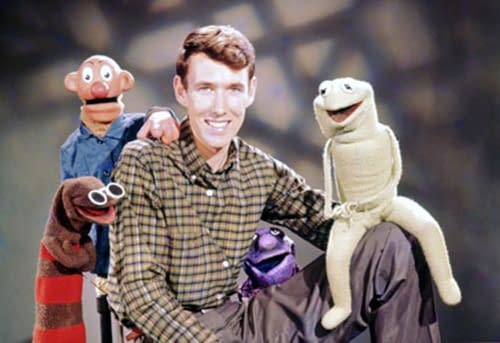 On May 9th, 1955 the single greatest frog in the history of television* made his debut in Sam & Friends, broadcast live on Washington DC's WCR-TV. At least… sort of. Because, the thing is, while this was Kermit, he wasn't quite a frog yet.
No, he wasn't a tadpole, he was just something… froggish. Charming and wonderful and telegenic, but not quite green and not yet a frog.
Here's a video from Sam & Friends that shows him in sorta-froggy action.
[youtube]http://www.youtube.com/watch?v=zO2JmArTOSM[/youtube]
That's the best clip of the young Kermit I could find, but if you have any other favourites, please put them in the forum.
Happy Birthday Kermit. I really can't wait for your new movie.
*No, the history of the world.
Enjoyed this article? Share it!