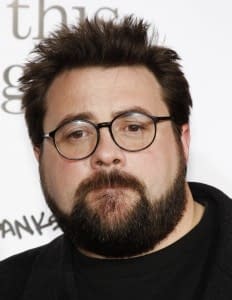 After a few teasing tweets, Kevin Smith has given his first solid indication that yes, he will be changing his distribution plans for Red State, and bringing the picture forward. Instead of putting the film in cinemas in October, as was announced, the new plan appears to be a Labor Day Weekend release, meaning Friday 2nd of September.
Here's the tweet exchange between Smith and – who'dathunkit, my old radio sparring partner, Kevin McCarthy:
Via @bdkreviews "any word on RedState coming out earlier than October?" What're you doing Labor Day weekend? Details this month…
This cut will be, Smith has revealed, slightly different to the one which played at Sundance. Using feedback from that premiere, Smith realised that some of the edit could use some tweaking.
Similarly, he's going to look to his fans for early feedback on Hit Somebody, his upcoming hockey movie based upon the song by Warren Zevon and Mitch Alborn. Way, way early in fact.
Smith tells NHL.com that, inspired by positive feedback to scenes from the script that he's already shared, he's going to publish the script for the film before shooting it:
I have a new plan for Hit Somebody. I'm going to publish the script way before I make the movie. It's so much more difficult to explain your intentions to people or to open up your head and let them see what the plan is or how you connect the dots. It's so much easier to just say here and cut to the chase. So much of film, if you're a writer or director, is predicated on keeping it secret. It's my currency, right?

But … it feels stupid to be working on something in the dark that you just want to share. The only reason we do it is because we want people to see it, want people to share in the feeling, the emotion.
See it? Or will read it really do?
Once again, Smith seems to be opening himself up to an awful lot of criticism. Once again, I'll be watching for his responses.
Footnote: In the same interview, Smith says of Ben Affleck and Matt Damon:
In my head, both of those dudes are on the Boston team Buddy gets traded to.
So, we know what they'll be doing in his head… but actually in his film?
UPDATE: News Askew, an official Smith source, have confirmed plans for a Labor Day release. They say they'll "speculate" this weekend as to where the film will play. So, in short, it doesn't sound like a wide release is going to happen at all.
Enjoyed this article? Share it!