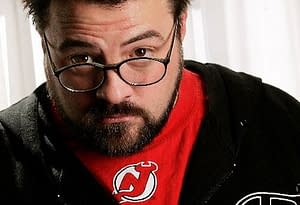 Kevin Smith is currently translating the 5 and a half minute pop song Hit Somebody into a film that will last, if he has his way, for several hours. At the moment, Smith says, the script is 110 pages long but only half done. Maybe he's trying to put in every idea he's ever had into it – he's already said that this hockey epic will be his last film, and maybe he's feeling some self-imposed pressure.
And, also befitting a swan song, Smith says that he's planning to stuff the film with "a zillion cameos". During his live chat with MTV tonight, he revealed the extent of his casting ambitions:
We'll have a team in Boston, and who do you think I'm going to call? Both of those dudes.
For those of you not majoring in The Life and Works of Kevin Smith, I'll turn the volume up a little: he means Ben Affleck and Matt Damon.
Overall, it sounds like he's going for something not unlike Kevin Smith's 8 1/2, the story of his film career filtered through Buddy's hockey career, full of personal resonance. That would make John Goodman's coach character (if he signs on) the Harvey Weinstein figure, I think.
You can stream the whole chat with MTV's Josh Horowitz now. I would hope they leave this online, too. I'm sure it will be very interesting to revisit the conversation and see how it feels having seen both Red State and Hit Somebody, a couple of years from now.
Enjoyed this article? Share it!