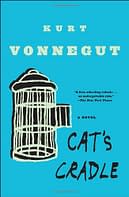 According to Deadline, FX is developing a limited series based on Kurt Vonnegut's novel Cat's Cradle. The project will be executive produced by Noah Hawley, who is also developing the X-Men series Legion for the cable network. Hawley is also the mastermind behind FX's Fargo.
The 1963 satirical novel centers on a man writing about the day the first atom bomb was detonated, but ends up on an island with a strange dialect of English and an odd religion known as Bokononism. There is also a substance called ice-nine, a despotic leader and unfortunate turns of fate.
It is currently unclear when the series will go into production.
Enjoyed this article? Share it!