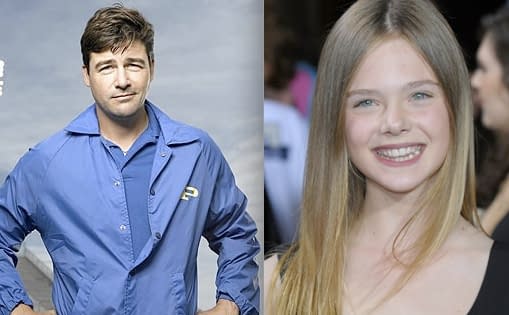 Some filmmakers go by a last name only – Spielberg, Hitchcock, Scorsese; some can go by their first name alone – Marty and… er… Madonna; I think there's probably just the one that goes by his first and middle initials.
JJ (as in Abrams, keep up) is currently working on a fairly-secretive project called Super 8 for release next year. We think it's got an alien in it. We think it's a period picture. We think it's "in the style" of the 80s Amblin pictures of Spielberg and Zemeckis (told you). Indeed, Spielberg (or just S? Maybe we can just call him S?) is an executive producer on the film. Yeah, whatever that means.
Vulture have scored a casting exclusive, reporting that Elle Fanning, younger sister of Dakota, has taken a part, and most likely the coveted role of:
FEMALE 13-14 – AN ABSOLUTELY STUNNING NATURAL BEAUTY, STRONG AND CONFIDENT WITH A GREAT SENSE OF HUMOR. SHOULD HAVE A MIDWESTERN FEEL.
Good for her.
Meanwhile, Friday Night Lights' Coach Taylor, in the person of Kyle Chandler, will also be signing on. A dad? A government agent? A small-gauge cinematography buff? All three? Who knows.
There's really not much to say, so secret is the film. I wish I knew more, but there's just not much else out there. Where's the fun in that, JJ?
Enjoyed this article? Share it!