The French branch of Amazon have La Trilogie The Dark Knight available for pre-order now. It's likely that other countries will follow suit – but will they contain the same model vehicles? Doesn't actually look like it…
The set is comprised of six Blu-ray discs and three DVDs. It's not yet clear what extra material will be on the discs or if the transfers will be upgraded at all, but that was certainly the original plan and Batman Begins never took up two Blu-rays before now.
Here's a nice close up of the French version's model vehicles as scooped by Edition Collector – the original source of a story that wound its way to Batman on Film, some details getting knocked off en route. And here's a look at the apparent English-language packing, as scored by The Batcave in Poland. This could be the US set, I suppose. The UK one would have a BFFC bullet on it.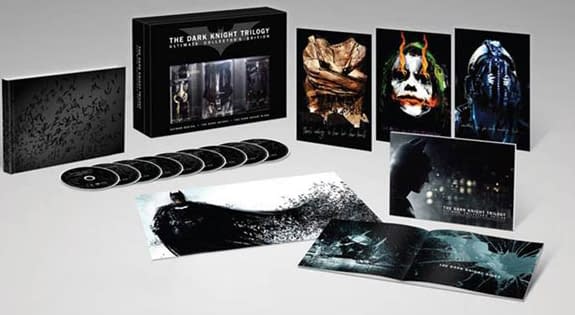 Release dates for the set around the world seem to be spread across late September and early October.
Enjoyed this article? Share it!