Lee Pace Talks 'Revolt', Broadway, And 'Halt And Catch Fire'
Lee Pace isn't your average talented actor. Not because he's been both elven royalty and a Marvel bad guy, but I guess those things count in his favor. And no, not just because of those expressive eyebrows, either. Lee is someone who takes you with him when diving into a character; who points out notable visuals and insightful stories along the journey.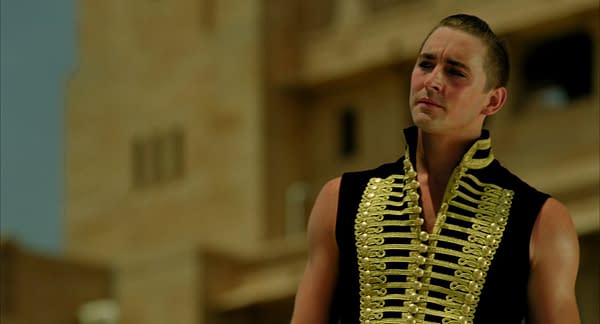 I first really remember seeing him in Tarsem Singh's visual masterpiece The Fall, enchanted and immediately curious to see more of his work. Maybe you saw him heading Bryan Fuller's short-lived but fantastic TV show Pushing Daisies, or in Peter Jackson's The Hobbit trilogy as King Thranduil. And who could forget Ronan the Accuser from James Gunn's Guardians of the Galaxy? Seriously — Pace has done a bit of everything.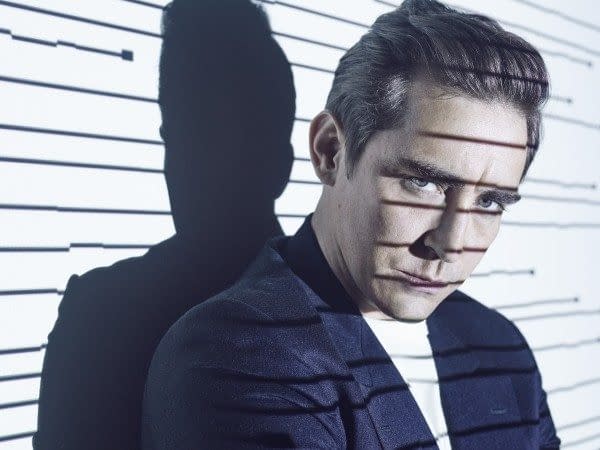 I was lucky enough to get to talk to him about Revolt, a sci-fi film from director Joe Maelie — even though I probably could have spent all of my allotted time gushing about my favorite television character of the past five years: Joe MacMillan from AMC's Halt and Catch Fire.
(We started our chat talking about the weather, and how my city was cold and rainy.)

Lee: It's this weird sort of cloudy, overcast. This bizarre light out. I keep looking out at it, and thinking it's like I'm in a cloud or something. It's not quite misty, it's not quite sunshiny, but like everything is light right now. It's just — it makes me laugh, California. (laughs) It's very LA.

I always think that everything is so nice here. I'm from New York, I've lived there since I was 17, I grew up in other places, but it's just the opposite. And every time I come out here — I mean, it's beautiful in New York; I love it there, in Upstate — there's just something about California that's so nice. Almost like, you feel guilty that it's so nice here. The weather is so pleasant, the most beautiful plants and trees grow here, everyone is so relaxed here, and (laughs) you're just like, "What is with this place?" It's too nice. Sorry, sorry, here I am going on and on about California.

Me: That's fine; you could go on and on for 20 minutes and I would be happy as a clam. How is Angels in America going?

Lee: I've just started work on it, and I feel, well, so privileged to be a part of this. I have to play catch-up, because everyone else was a part of this show in London, so I've got the play with me everywhere I go. (Hesitates just barely before continuing) I can't get it out of my head. I just had this incredible week of rehearsals with Nathan Lane last week, and I just went home every evening pinching myself because he's just so incredible. It's such a privilege to be doing this with him, and I'll meet the other actors soon. I'm just so excited about the whole thing. This play is just as good as they come.

"Revolt" by director Joe Maelie, look for our review this weekend!

Talk to me about Revolt. What was that like? Big difference from Angels, right?

Lee: We shot it a while ago, then we reshot the ending of it, the last third. It's gone through quite an evolution. I love Africa; there was a movie I did years ago called The Fall (cue me trying to hold it together because I love that movie) and we shot in South Africa and in Cape Town. One of the things that really drew me to this was the opportunity to shoot again in South Africa.

This time it was in Johannesburg, which is very very different than Cape Town. A real proper adventure, shooting that movie. We were in some pretty wild places there, even without the robots. Because they were all CGI (laughs), we didn't have those scene partners. But director Joe Maelie did a really awesome job of creating that in a cool way.

Me: It was a different take on a sci-fi invasion movie, which was refreshing.

Lee: I think sci-fi — especially these days — provides sort of a grotesque, so we can understand modern life. You can create this scenario where it's the end of the world, and it's totally upon us, it doesn't just feel that way (laughs). And you can place evil in the hands of these mysterious aliens who are trying to bring about the end of humanity. I think it sort of makes this Greek cathartic sense of emotion. There's that quest for survival, and it's most potent in context when the stakes are very high. And they are here, because this character, he doesn't know who he is or what he's doing here, and he's piece by piece putting together this horrific reality.

Me: One of the things I've been waiting for years now to get to talk to you about is AMC's Halt and Catch Fire, which just ended this year. On a personal level, I don't think I've ever had such a reaction to a television character in all the years I've been consuming the medium as I have to Joe McMillion.

Lee: (Amused) Oh, really? Wow.

Me: There are times where I absolutely hate him, and times where I've absolutely loved him. Sometimes I've screamed at the television at him because of something he's done, and then I'm reduced to tears because of how beautifully you've played a scene. I just really wanted to thank you for all the work you did on that show. There hasn't been and probably won't be another character like him, and no one could have played him the way you did. (You can read this interview on Collider with Lee from back in August — it's glorious.)

Lee: You don't know how much that means to me. I really can't tell you how much I appreciate that, because I feel the exact same about the character. There have been times when I would read the scripts and have that feeling of, "Why, why are they doing this to him?" (laughs) and, "This is an unfair world!" and the gods hate him. But then the writers would treat him with this uncalled for tenderness. (Here he starts and stops to speak a few times; I'm completely convinced he does indeed love Joe.) I just, I appreciate it. It's sort of a long way of saying thank you very much for watching it; not many people saw it, really.
Not that that matters, but I put a lot of myself out there with that character in some weird way and I felt very connected to him. I wanted him to succeed, I wanted him to — I don't know — wanted him to get what he was after. I felt very invested in him, and that it was some riddle about human life that his quest of trying to solve it might help me understand it a little better. I don't know what conclusions I've come to (laughs), but that's my big conclusion.

That's really one of the points of the show: there is no finish line, you just keep playing. That's really as good as it gets. With what happened with Gordon — not everyone is so lucky. I really couldn't be more proud of that show, it's one of the things that i've been involved with that I'm the most proud of; the most connected to.

Me: I guess I'm glad to be one of the few who watched it then, because boyhowdy did it impact me. The ending of the series, that final sequence after such a journey, and seeing everything Joe had gone through. Hopefully it'll go down as something really special, because so few characters have an ending like this. Beautiful and unexpected and wonderful.

Lee: Him teaching? And perfect in a way. I thought the same when I read it, but I didn't really understand why that ending at first. But the more I sat with it, the more I [realized] it was the only place for him. It makes such sense to me that its time for him to just do what he does, and to connect with that younger generation. It made a ton of sense to me.

Me: Have you watched the final episode yet, or are you someone who doesn't like to watch things you've done?

Lee: I've watched half of the last season, but I just shot a movie in Puerto Rico, and we were right after the hurricane.

Me: Oh, wow.

Lee: I know, right? So I haven't been able to sit down and watch the last five yet, but I need to. And also that whole thing that happens with Gordon was just so sad. Maybe I'm a little afraid of watching it all, because… yeah, it affected me. Working with Scoot for all that time, and that's just one of those unendurable sad things that happen in life. You don't see it coming really in any sense at all, and there's nothing to come of it really other than it being unendurably sad; irrevocable. I have such respect for The Chrises, the writers on the show, because they give the moments like that the value that they require in the space of the story. It's a big gesture to make.

When it happened, all the characters responded to it with this real sense of emotional intelligence. I think with that show, I'll continue to look back on it as something I was very lucky to be a part of.

Me: What was it like filming Driven in Puerto Rico? You said it was after the hurricane?

Lee: We did a few days before the hurricane, well, between the hurricanes. Because Irma went through first, and caused no small amount of damage, but then Maria hit. And it was so devastating, I can't even tell you, being there. It was unbelievable, the destruction was — it really took me by surprise.

But it was important to us to finish what we started. There was a very hard-working crew, many of them very badly affected by everything. They were really eager to keep at work on our film. It was tough working conditions because of it — so much of the island didn't have power — but there was a real bonding thing that happened around that. Just getting back to work and working hard on something, working together as a team, which we all became on that movie despite everything. So much of that, working through it, aligns with certain themes in the movie. It'll be on the screen, in a way.

This movie is going to be cool, the story of John Delorean, it's a very interesting one. We actually had a really great time filming it, I got to work with my good friend Judy Greer again, and Jason Sudeikis, who's so intelligent, and we had a great time.

Me: I know you've got to get back to it, but thank you so so much for your time today.

Lee: Oh, thank you — come see Angels! Come see both parts! Make a day of it, if you can do it — I hear that's the way to experience it. It's a full proper day of theater, to go on this journey from beginning to end in a day, is really the way to do it. Well, that's what Nathan said, anyway, so.

Me: Oh man, and if HE said that, who's to argue?

Lee: I know, right? Cool. Thank you.