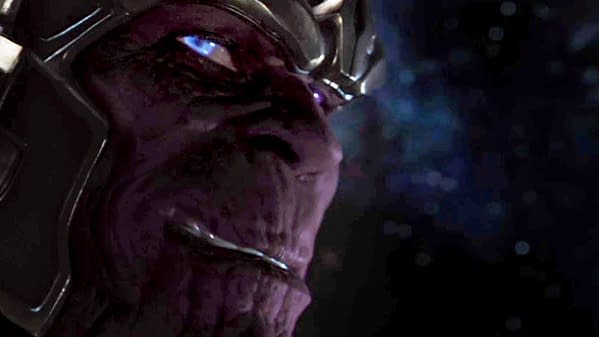 I read Desde Hollywood's quotes from Joss Whedon when our Michael Moran sent me a link to their story this afternoon. The link has subsequently been passed around a lot more, and provided the basis for several stories on several international film websites and blogs.
But I wonder if most aren't misinterpreting Whedon's comments.
So, here's the quote, exactly as it was given:
Well, Thanos is more powerful. He is so powerful he is not someone you can just try out and punch him. Like he did in the comics, you want him to threading through the universe and to save the big finale for 'the big finally'. He is definitely a part of what I have got going on.

The thing about the Avengers is that they are very powerful but not very stable. So, there will definitely be some people that will shake them up in the next installment.
Well, first of all, I don't know if we can really discern any kind of timetable from this. Many folk are running with the assumption that this means Thanos will be the big bad of The Avengers 3.
But that seems to hinge on a) a third Avengers movie happening and b) that being "the big finally" that Whedon talks about.
I expect clause a) is a lot more likely than clause b).
At the same time, the common understanding seems to be that "some people that will shake them up" is a reference to The Avengers 2 villains – but I don't see why that's necessarily so.
It could be a reference to new team members. I feel that's more likely, even.
In any case, Whedon has gotten us all talking. I guess that was the main thing.
The Avengers 2 starts filming early next year, here in the UK. My hunch is that Thanos will have a role to play, but not be vanquished. That's because I'm expecting an Infinty Gems storyline the thread through Phase 3.
But, again, that's all expectations. Nothing solid. You might as well forget I even said it.
Enjoyed this article? Share it!