Tonight, all Marvel fan eyes are focused on Los Angeles where the Avengers: Infinity War premiere is happening.
Over on the official Avengers facebook page, you can watch the red carpet now.  We're expecting to see various cast members appearing throughout the evening.  The film is set to begin at 7pm (PST), but rumors are that it'll be delayed to 7:30pm.
If that doesn't work, try the Marvel Entertainment twitter feed:
"Destiny arrives." We're LIVE from the Hollywood red carpet premiere of Marvel Studios' @Avengers: #InfinityWar! Watch for interviews with the cast and more: https://t.co/Sy5XkfPvxP

— Marvel Entertainment (@Marvel) April 24, 2018
There are of course some highlights being posted on Twitter, too, like Letitica Wright who played Black Panther's Shuri:
.@letitiawright always makes our (and the fans'!) day. #InfinityWar pic.twitter.com/jrwbtGrCO0

— Marvel Entertainment (@Marvel) April 24, 2018
Marvel actually has turned off the comments on their official youtube channel in an attempt to prevent spoilers from the premiere being discussed.
The Russo Brothers, who directed Avengers: Infinity War which is the 19th film in the MCU, even started a hashtag, #ThanosDemandsYourSilence: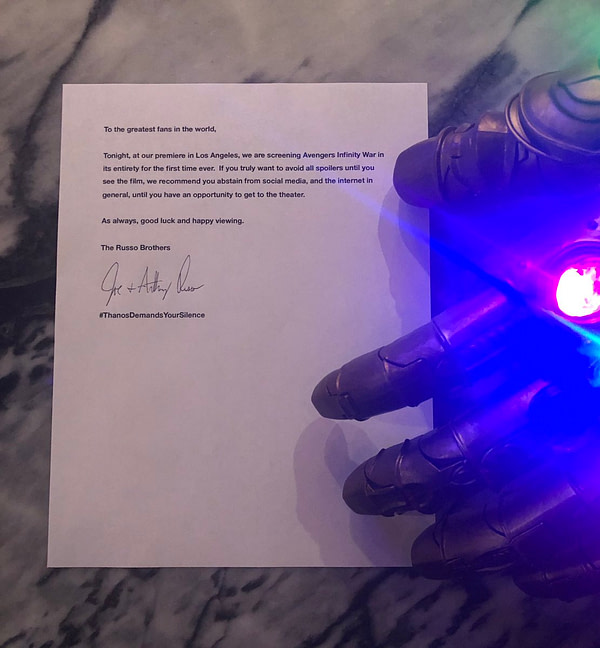 Director Joss Whedon just stopped by Variety's spot on the carpet, and spoke about why Marvel is still the 'gold standard':
Joss Whedon, who directed the first two #Avengers, on why @Marvel is the gold standard for superhero films https://t.co/8yElDD3WpG pic.twitter.com/V9jKbd3u44

— Variety (@Variety) April 24, 2018
Director Jon Favreau and star Scarlett Johansson on the carpet
.@Jon_Favreau and Scarlett Johansson shine on the red carpet. #InfinityWar pic.twitter.com/LqTnlbNOz7

— The Avengers (@Avengers) April 24, 2018
Photographer Mike Tuffley (one of my buddies from the convention scene) is also on the purple carpet, and was awesome enough to let me include some of his shots from tonight: Needless to say, if you REALLY don't want to be spoiled tonight, maybe avoid any/all internet until the film opens on April 27th.