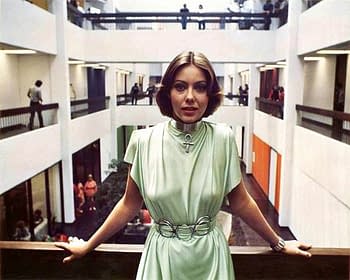 While talking with writer and producer Simon Kinberg, Collider asked about his involvement in the long-planned, but never quite realized remake of Logan's Run. Kinberg recently signed on to write a new story treatment and told the site that the studio is currently looking for a director.
"It's something that potentially is their Hunger Games kind of franchise that is about a younger audience for a younger audience with a big idea," he added. "And Logan's Run, as you know, is the granddaddy of Maze Runner and Hunger Games and so many of these books and movies now. So yeah, they're seeing it as a potentially really big franchise."
The original film is based on the novel by writers William F. Nolan and George Clayton Johnson about a far future in which citizens willingly surrender their lives on their twenty-first birthday. Those who refuse their last day are labeled "Runners" and chased by enforcers known as Sandmen. One Sandman, Logan, goes on his own run to learn the truth of a paradise Runners call Sanctuary. In the 1976 film starring Michael York and Jenny Agutter, the year of last day was changed to thirty and the future society was contained in a domed city.
Various attempts to remake the film have come and gone since the 1990s with people as varied as Bryan Singer, Joel Silver, Ryan Gosling and Bioshock's Ken Levine involved with the project.
Utilizing some of the ideas from the original film, Kinberg said the approach to a possible franchise is to first focus on creating "one great movie that people fall in love with." He added that they must also "be prepared that if they do, we could make future films and what would they look like and where would you go again with the character."
Nolan eventually wrote two more Logan novels following the release of the 1976 film and feature elements that could eventually be utilized in an ongoing franchise, including Logan's son, an autonomous supercomputer under the Crazy Horse Memorial and parallel worlds.
Enjoyed this article? Share it!