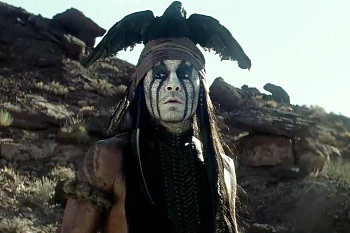 It's typical for movie studios to make multi-picture deals with the stars of their big-name, tentpole pictures. Anything that might turn into a franchise will almost certainly see its leads tied in for a trilogy's worth at least.
Speaking to E! Online, Armie Hammer has said that he's signed on for a "couple" more Lone Ranger pictures, where Ruth Wilson notes she has:
signed for three.
Johnny Depp is the odd man out, however. He told the reporter:
I think it was a one-shot deal.
And while he also says –
If they started talking sequel on this I'd be ready to go in a second
– Disney would have to make a new, and no doubt lucrative deal to get him back again.
Depp has already signed on for a fifth Pirates of the Caribbean, which is gearing up to shoot later this year in Louisiana, and he's also lined up to appear in Rob Marshall's film of Into The Woods as The Wolf.
But, with a faint echo of the iconoclasm that made Johnny Depp a much-loved movie star in the first place,  there's a smaller project on the cards too. He still does the odd "little picture," it seems… or at least gets attached to them for a while…
Talking with Buzz Sugar this week, the actor expressed his desire to make his next movie an adaptation of Kyril Bonfiglioli's unfinished, posthumously-published novel The Great Mortdecai Mustache Mystery.
The big catch is that there's no screenplay yet, nor any writer attached to the film just yet, though I'm sure Depp's interest will push development along nicely.
From the Amazon blurb for the novel:
Kyril Bonfiglioli's final novel follows the Hon. Charlie Mortdecai from adventure to misadventure via Jersey and Moscow to a final showdown in a Buckinghamshire bungalow of unparalleled hideousness.

Tackling en route an unhealthy sprinkling of well-seasoned academics, a cryptic monk, an aristocratic Chief Constable, and more spies than you could shoehorn into a black stretch limo, Mordecai finds himself embroiled in another mission of international insecurity.
Craig Brown finished the book after Bonfiglioli's death, writing a critical chapter towards the end that resolves the story's mysteries. Seems he got it right, though – I know a couple of folk who read the book and thought the two author's voices blended pretty seemlessly. On the other hand, they both seem to prefer the earlier Mortdecai Trilogy.
Some of the Mustache Mystery is set in Oxford University so, should the film happen and without too many rewrites, I could see Depp stopping by my neighbourhood for a while. That'll no doubt cause some fuss amongst the student body.
The Lone Ranger is out in the US this week, on July 3rd, and comes to UK on August 9th.