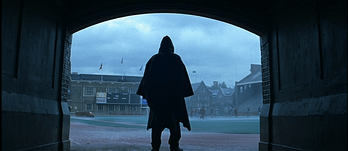 It seems like some US outlets sat down with M. Night Shyamalan for a roundtable interview as the same quotes are cropping up all over the place. I'll have to choose one to cite as a source, I suppose, so let's go with The Huffington Post.
Someone on the roundtable – possibly the Post, possibly not, and I guess it doesn't matter – asked Shyamalan about the potential of us finally getting a sequel to Unbreakable. Back when it first came out, Shyamalan suggested he had an idea for a full trilogy featuring David Dunn, though there's been no trace of a follow-up in the meantime.
And then, in 2010, Shyamalan suggested that he was recycling one of his Unbreakable sequel ideas, relocating the villain into another film, one of his (apparently abandoned) Night Chronicles series.
I cannibalized the idea for the sequel to Unbreakable for one of the Night Chronicles. It was such a cool idea for a villain, and it was actually originally in the script forUnbreakable, and it was too much. There were too many villains, so I pulled this villain out and was like, 'I'll make this the second flick.'

I'll just say it: the third Night Chronicles movie is what would have been the sequel. So now I need to come up with a new idea.
It was at the roundtable that Shyamalan suggested he may now have this necessary new idea. He also hinted at what the idea was.
Slowly I'm getting a story in my head that I feel like is able to tell what I'm feeling right now… The story of a guy who kind of wakes up with a little gray feeling in the morning, I love that character. It's something that I feel and I want to talk more about that character.
If you read the full discussion, you'll see that it's not exactly flowing but, in little fits and spurts, Shyamalan seems to be saying that he's lonely, and it's this loneliness he wants to explore for Unbreakable 2.
Before that, though, he seems to be planning a little bit of a palate cleanser.
I am really leaning towards doing a hyper-small movie.
Hyper-small? That's small. Unless he means it in the mathematical sense where the prefix denotes four dimensionality. Which he doesn't. Probably.
Incidentally, Shyamalan also said similar things to MTV, adding:
On my dressing table, I have a whole list of notes about it.
Seems like a proper going concern.
Shyamalan's latest film, After Earth, is released in the US tomorrow and in the UK on June 7th. I'm pretty keen to see it, I have to admit, but I'm probably far more interested in both Unbreakabale 2 and this hyper-small picture.
Enjoyed this article? Share it!