Madonna Options Rights To Time Travel Novel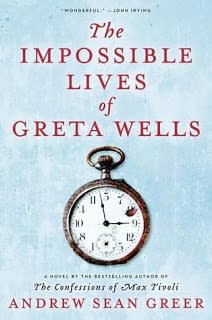 It's not known yet whether Madonna intends to direct, produce or possibly even star in an adaptation of The Impossible Lives of Greta Wells, a time travel novel by Andrew Sean Greer, but she certainly intends to do something with it.
The book centres on a woman, Greta Wells, undergoing electroshock therapy and during the treatment finding herself travelling back to 1918 and 1941.
According to an interview with the author at Litseen – which I first saw referenced here and followed back to the source via here – Madonna picked up the rights to the film and also called the author directly to speak with him about the book.
What can I say? I got a phone call last week… I think it's fine. No one's asked me about this… from a celebrity who read the book and loved it so much she called me up personally to talk to me about it. I thought it was going to be one of her assistants who was like, loved your book, she's interested. Right. She didn't read it. But oh no no no. She called me. She read it. She totally got it. There were a couple other people interested and they sort of all made a deal together, and she's optioned the rights to it. We'll see what happens. But it's fun because it was Madonna.
I wouldn't know about whether or not that's fun, I'll take his word for it, but it's certainly noteworthy.