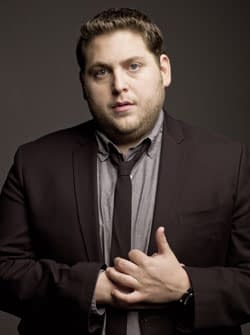 The next feature film to get rolling before the big-browed eyes of Martin Scorsese will be The Wolf of Wall Street, an adaptation of Jordan Belfort's memoirs, recounting his explosive life of white collar crime.
Freshly added to the movie's cast is Jonah Hill, further developing his cache of dramatic roles after great success with Moneyball. He'll be playing Danny Porush, a friend to Belfort, who will be played by Leonardo Di Caprio.
According to The Hollywood Reporter, Porush…
…quit his job in furniture sales [to] enter the lucrative yet volatile world of stock brokering. The film chronicles the duo's meteoric rise and colossal fall amid scandal, fraud and excess.
All culminating in a 20 month prison sentence for Belfort, I understand. Well, that and a best selling memoir. And a movie deal for that memoir that will see him immortalised in the form of Leonardo Di Caprio. And then all of the attention and, no doubt, earning potential that will follow – those True Crime Stories always pay.
Enjoyed this article? Share it!