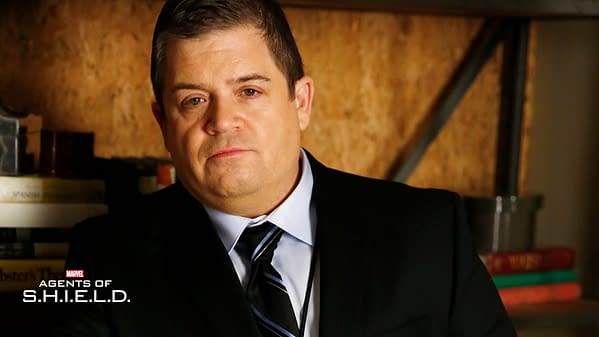 I don't really know Eric Koenig from the Marvel comics but the images I have found via Google search don't exactly scream "Patton Oswalt." Nonetheless, Marvel have just announced that match of character and actor for some upcoming episodes of Agents of SHIELD.
Oswalt alludes to the mismatch in looks too, using his statetment in Marvel's press release as an opportunity for some self-deprecating inward-bound jabs.
When they first told me the character's name [Koenig], I'll admit the first thing I did is I went on Wikipedia and looked up the M.O.D.O.K. character to see if Koenig was maybe his name before he became M.O.D.O.K., but it wasn't. They keep on talking about the Clairvoyant in the show and I'm like, 'is that M.O.D.O.K.? Am I M.O.D.O.K.?
Ouch. Another quote from Oswalt is much more positive, celebrating a very identifiable nerdiness. The very same kind of identifiable nerdiness that he's been tickling funny bones with for years, just filtered a different way.
When you're in something, now you know what's coming. A big part of me is still a big consumer of this stuff. I have friends now that write some of the comics, and they'll send me issues, [but] I like having to wait until every Wednesday and get it once a month. That's sort of part of the story for me. It's that push-pull of, I want to know stuff now, but I also like the waiting is part of the fun. [Marvel's] doing so much stuff [though], and now with the Netflix [deal], there's always going to be enough to wait for and rub my hands together for. That will never be a problem.
He'll be an asset to SHIELD, I'm sure, and I'm definitely looking forward to seeing on the show.
Here's a quick Koenig bio from Comic Vine, describing how his role played out on the page much better than anything I could have boiled down myself:
As a young man Eric was a member of the Nazi Party, however always doubtful of Hitler's leadership. He was convinced by Nick Fury to switch sides, and soon became one of his most trusted friends, and a founding member of SHIELD. He continued to work for S.H.I.E.L.D for 28 years until it was decommissioned into H.A.M.M.E.R.
Enjoyed this article? Share it!