 Though she kept her cards pretty close to her chest whenever the question came up, Mary Elizabeth Winstead has indeed reprised her role as Lucy McClane in the fifth Die Hard movie, A Good Day to Die Hard.
Diplomat, sometime extra and aspiring author Ted Cross has blogged about his experience playing a CIA man in the film, and describes the cherry on his Die Hard cake thus:
The best, though, was that I got to work with Mary Elizabeth Winstead, who plays Willis's daughter. I've had a crush on her ever since she was the lead actress in Scott Pilgrim vs the World. That's a terrific movie if you haven't seen it yet.
I was going to make some comment on how short lived his crush is, but I suppose it's preferable to it having started when she showed up on Touched By An Angel.
What we don't know yet is how big Ms. Winstead's part is going to be, but I'm sure it's closer to a cameo than a starring role.
Jai Courtney has been cast as her brother Jack. Here's the first image of him with Willis, from the screen test that won him the part.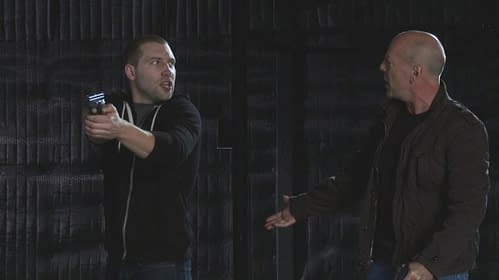 A Good Day To Die Hard will be along next spring, like it or not. In the meantime, you can read all of Ted Cross' other posts on the film. They certainly kept me entertained.
Enjoyed this article? Share it!