Welcome to Masters of Cinema Monthly.
I'm quite a fan of film podcasts. They have a lot of potential to be excellent platforms for interesting film criticism and much like blogging, podcasts allow for unlimited freedom to discuss whatever you choose to, without the constraints that print or radio journalists seem to have to work within.
One new podcast that has made its way into my subscriptions is the MoC Cast, a new show from Masters of Cinema fans Thomas Jennings and Joakim Thiesen. The first episode of the MoC Cast recently debuted and Tom and Joakim began the show by speaking about their love of the series, before discussing some MoC news and then launching into a lengthy discussion of Peter Watkins' Punishment Park.
You can find more details about the podcast on the MoC Cast site (http://moccast.blogspot.co.uk/) and follow them on Twitter @MoC_cast.
Below is what could be described as their mission statement,
Distributors such as Criterion and Masters of Cinema deserve to be celebrated which is exactly what Joakim and I intend to do with this new podcast. Much like the excellent Criterion Cast each episode of The Masters of Cinema Cast will pick a release and review the film as well as taking a look at what special features the release has along with news and rumors.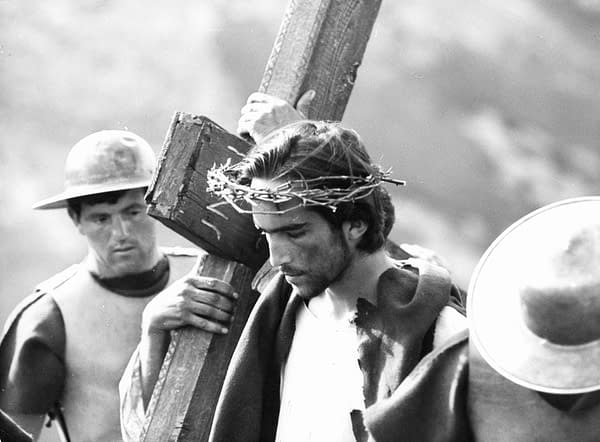 Easter is a time when many film fans take the opportunity to watch something Christian themed and many sites take the opportunity to focus on one of the many films that feature a cinematic representation of Jesus. This year Fandor looked at The Gospel According to St. Matthew, Masters of Cinema #33, and in particular at Pasolini's focus on faces.
You can read the piece at Fandor here and I have embedded the video and the preceding text introduction below.
It's the beauty of Pasolini's faces that I emphasize in this three-part video. The first part encompasses every close-up in the film, playing them in sequence at 300 times normal speed to give a sense of one face blurring into the next, all humanity fused into one. The second part focuses on the film's many shot-reverse shot sequences (as well as sequences that involve multiple characters responding to each other, and there'a also a breakdown of the long sequence where Christ speaks in different locations and times of day). Shot-reverse shot is a critical device in the film. The film's dramatic scenes are hardly exposited through medium shots or elaborate staging. Instead we see people talking and listening through shot-reverse shots, depicting the life of Christ and the Gospel of Matthew as a series of dialogues and debates.
One of the most intriguing, and it would seem controversial, entries into the Masters of Cinema Series was Pedro Costa's Colossal Youth. Costa was over in the UK late last year and film critic David Jenkins posed some very interesting questions to the director. The interview was published last month and you read it in full at Mubi.
Although Jenkins and Costa do not speak about Colossal Youth, there are a number of topics covered that provide excellent background reading for contextualising the film. One of the most amusing things about the interview is how often Costa returns to talking about David Fincher. Quoted below are his thoughts on The Girl with the Dragon Tattoo, but I would urge you to head to Mubi to read the full interview.
I saw the girl, I saw the motorcycle, I saw the tattoo, it's all right. It's a bit too fancy, too chic maybe, but I understand. There's the iPhone, the sex, the loneliness. It's three hours because there's a guy killing girls. Why not just have no-one killing anyone and having a girl with a motorcycle? Can he do this? I think he can. I sent a message to his DP who I know very well. I said, "Avoid the killings. Three hours without the killings. You can have the Bond guy. Let's set it in Sweden for the yellow light. You can have the editor, the lover, the challenge between young and old, bodies coming together. I understand those fetishes. Let's avoid every single murder, killing, weapon. That's the challenge." I have to deal with this. You can seeThe Big Sky and analyse it shot by shot. It's an amazing piece of craft. But you have to do a little bit more. It's about destiny. It's about going beyond something. It's about love. It's about racism, humiliation, pain. And it's a long film. It's big. Big scope! The Big Sky! The Girl With The Dragon Tattoo should be a remake of that film.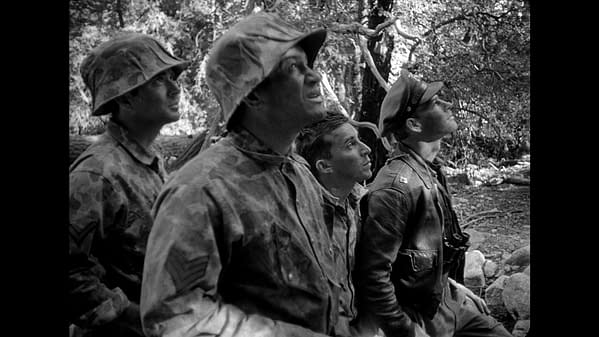 Since the release of Fear and Desire by Masters of Cinema I have seen many cinephiles wrestling with whether or not they should really be watching it, considering Kubrick's own feeling that the film should be buried. Most, it would seem, choose to indulge in watching it anyway (as I did) but a feeling that this perhaps it is not the 'right' thing to do still pervades.
Masters of Cinema producer Craig Keller Tweeted about this recently, making clear in a succinct sentence why Masters of Cinema chose to release it and why you should definitely consider checking it out.
Directors are never good gauges of their own work, and Kubrick was way off on disowning FEAR AND DESIRE…

— craig keller (@evillights) March 21, 2013
Considered by many to be the film that launched the Nouvelle Vague, Claude Chabrol's Le Beau Serge was also the début film from a prolific director who went on to make a large number of films until his death in 201o aged 80. Chabrol became synonymous with thrillers and a distanced approach and there is some sense of this in his first feature. Le Beau Serge also feels very much like the creation of a young man though, albeit one who already carries a certain understanding of life and sadness.
Opening with the arrival of Francois (Jean-Claude Brialy) in the town of Sardent – the sound of engine abruptly rupturing the tranquillity of a countryside scene – we are quickly made aware that this visit is a homecoming for Francois after a long absence. As he walks down the streets of Sardent, a real town that Chabrol lived in as a child during the occupation, he begins to chat to a local, played by a non-actor and real-life resident of Sardent, about how the town has changed. He then sees an old friend of his, Serge (Gerard Blain), who is now married and living a miserable and drunken existence. Serge's wife is pregnant for a second time, the couple having lost their first child, but Serge appears to care little for his wife or his soon to be born child and instead drinks himself into oblivion on a daily basis.
As Francois comments, the town and its buildings may not have changed but the people have.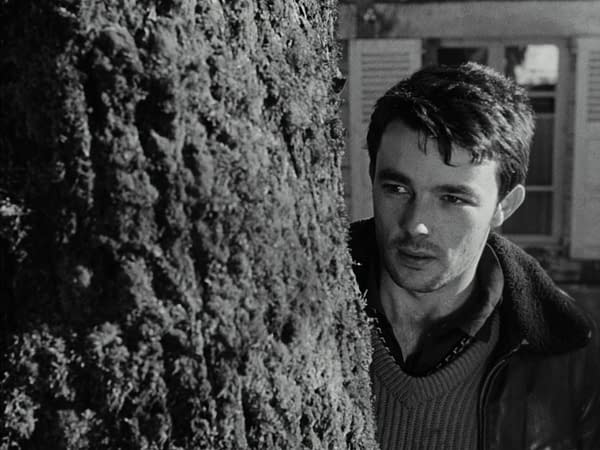 As the opening shot suggests, this is the story of a city boy returning to his countryside home town and everything that this experience entails. Francois has moved on, he's been highly educated and feels as if he has experienced life, but despite his almost smug position as a member of the intelligentsia he has nothing on Serge, a character who one can almost see the weight of his problems bearing down on his body. Blain is fantastic as Serge, a French Jim Stark with a drinking problem, and the depressing state of his character carries a lot of the emotional weight in the film.
The more intellectual side of the film is provided very much by his interactions with Francois and it is no coincidence that the defining characteristics of the two men are divided very much by what side of the film they also represent. It is a simple but highly effective piece of writing by Chabrol. The dichotomy between the two central characters is something that Chabrol references in his filmmaking choices too, most notably in a scene in which he breaks the 180 degree rule in order to highlight a rupture and a switch.
This is one of few filmmaking surprises for a film that is considered to have kick-started the Nouvelle Vague, none of the jump cuts that would be so incessant in Godard's À bout de souffle for instance, and Le Beau Serge is for the most part a well crafted classical piece of filmmaking. Despite being considered the beginning point of a movement Le Beau Serge comes across much more like a stage in an evolution of something rather than a revolutionary moment. Echoes of Italian neo-realism are also obvious in Chabrol's approach and it is no surprise to discover that this was a reference point for Chabrol. He even took an early version of the script to Rossellini, who reportedly was less than impressed with it.
There is a truthfulness to Chabrol's début though that is really rather startling and the real life woes that are it its core and that Chabrol so interestingly explores make this a fascinating film to engage with on multiple levels.
This new Blu-ray takes another fine transfer from Gaumont and adds to it a collection of interesting special features and a fine booklet. The image quality of this release is superb, with a fine layer of grain present throughout, and few signs of any serious damage. Although I don't have the Criterion release of this film screenshots would seem to suggest that the only difference between the two transfers is that the Masters of Cinema release is slightly brighter.
The Masters of Cinema and Criterion releases differ on the special features and Chabrol fans will probably be very tempted to pick up both. Whilst this MoC release does not have the commentary that appears on the Criterion release, it does feature an excellent documentary. Entitled Chabrol Launches the Wave this documentary gives some wonderful insight into the build up to and of the making of this film. Coupled with the booklet included with the release one has a great deal of information about what is a very interesting period in French film history. The MoC disc also features L'Avarice (which translates as greed) , a 1962 short film by Chabrol, taken from the portmanteau film Les Sept péchés capitaux (aka The Seven Deadly Sins).
Enjoyed this article? Share it!