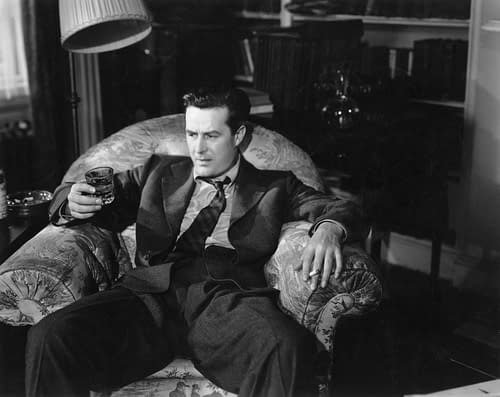 Welcome to Masters of Cinema Monthly.
This column has been on a bit of holiday but I'm back and I have reviews of the four latest Masters of Cinema releases to share with you. But before I get to that I have a couple of very special competition announcements.
In the last column I held a competition to win three Masters of Cinema posters and the randomly selected winner is the following lucky gentleman.
Hey, you know how Double Indemnity is my favourite film? Just won these posters from @bleedingcool ! Cheers guys! eurekavideo.co.uk/offers/posters…

— Adam Wright (@Mockturtled) June 29, 2012

Now you may be feeling a little bit jealous of Adam right now (I know I am) but I have another poster competition this month and it's pretty incredible. I have one copy each of the Masters of Cinema quad posters for Ugetsu Monogatari and Sansho Dayu to give away to two lucky Masters of Cinema Monthly readers.
These posters are currently limited to editions of just 6 and unavailable to buy so the winners will certainly have something to brag about.
To let everyone get a chance to be in with a shot there are three ways to enter. You can enter by Tweeting me @cskinner, leaving a comment below or emailing me directly – craigskinnerfilm (at) gmail.com – with 'MoCM Competition' in the email subject line. Two winners will be randomly selected on the 15th of August 2012, with the first chosen getting the first pick of the two posters and the second winner receiving the remaining poster Good luck!
Originally serialised in 1914, Harry Leon Wilson's novel Ruggles of Red Gap would go on to be released as a novel, adapted into a stage play and three films, the films released in 1918, 1923 and 1935. The most famous of these, the 1935 film adaptation directed by Leo McCarey and starring the multi-talented Charles Laughton, has recently received a much deserved Blu-ray release from Masters of Cinema.
Laughton stars as the titular Marmaduke Ruggles, a very prim and proper English butler who is lost in a bet to a rather less prim and proper couple who hail from a remote American boomtown, Red Gap. Ruggles is forced to make the journey to America and so begins the fish out of water story which is at the centre of the plot and the playground for much of the comedy.
The clash between the ever so proper Ruggles and the brash and ill-mannered Egbert Floud (Charlie Ruggles) is a particularly ripe source of amusement and the opportunities taken to have one or both of the characters drunk leads to some of the film's most memorable comedic moments.
Acting drunk is perhaps one of those ultimate tests for actors, it being something that so often goes hideously wrong and looks absurd, but Laughton more than rises to the occasion and the scene in which he is far more than two sheets to the wind is both hilarious and utterly convincing.
Laughton was a superb actor and Ruggles of Red Gap is a wonderful showcase for his particular skills as a comedy performer. A look to one side or a seemingly casual gesture translates into a lot of laughter and it is no wonder that the Ruggles character has become so synonymous with Laughton.
It is not only in the comedy that Ruggles of Red Gap pays dividends though and it is perhaps no surprise to those familiar with McCarey's work that there is more depth and tenderness to Ruggles of Red Gap than the class comedy and broad humour may at first suggest.
Climaxing with Ruggles becoming something of a celebrity in the small town of Red Gap, and finding new place for himself in society, McCarey makes clear in the final scenes that Ruggles of Red Gap is a rather intoxicating fable about the 'American Dream'. Ruggles is seduced by the American belief in self-determination and the chance he has in this new land to reinvent himself. This reaches a head in a memorable sequence in which Ruggles recites the Gettysburg Address to a group of captivated locals. The scene is powerful, mostly due to Laughton's unfaltering and beautiful delivery of the speech, but also in part down to the understated and appropriate way in which McCarey builds to the sequence and frames the proceedings.
The moving recitation of the Gettysburg Address by Laughton was so well regarded that it was even released as a 78rpm record two years after the film was originally released. This recording is included on the Blu-ray amongst a selection of intriguing special features. Also on the disc are three radio adaptations featuring Laughton and a video interview with actor and Laughton biographer Simon Callow. This video piece featuring Callow is an easy listen and occasionally interesting but a little insubstantial. If you are looking for more detail though Masters of Cinema come through with one of their always excellent booklets.
The transfer on this new Blu-ray is excellent and despite a few minor contrast fluctuations and negligible inherent print issues, the film looks startlingly good. Those in particular who pay close attention to grain retention will find absolutely nothing to complain about here as very careful attention has clearly been paid to ensuring everything is as it should be.
Ruggles of Red Gap is available to buy now.
Another adaptation and another stellar performance by Charles Laughton, Island of Lost Souls has also arrived on Blu-ray in the UK thanks to Masters of Cinema.
The film's release history in the UK is one fraught with censorship issues and it is one that provides an interesting case study for the shifting Zeitgeist that has informed and continues to inform the classification and censorship of films in the UK. Originally rejected by the BBFC in 1933, again in 1957 and then given an X certificate in 1958 (with cuts) the film was not actually released uncut in this country until 1996, over sixty years after its original release.
The 1996 release was, perhaps a little surprisingly, still classified as a 12 but when resubmitted to the BBFC last year for this Blu-ray release the film was awarded a PG classification. The film will be shown as part of a season at the BFI to celebrate the BBFC centenary. Presumably in 2112 we will be able to sit in a cinema in the UK and watch the uncut versions of films such as The Human Centipede 2 and A Serbian Film, in a celebration of another one hundred years of the BBFC rejecting films and continuing to be one step behind, although I suspect neither cinemas nor the BBFC will last that long.
That Island of Lost Souls had such power to shock the, admittedly delicate, sensibilities of the BBFC in the thirties and the fifties is almost certainly in large part down to the rather unpleasant themes that the film explores more than any graphic content on display. Sure, there are moments that would have most likely raised an eyebrow with the censors and had them scribbling furiously about cuts but the real power in Island of Lost Souls lies in its thematic content, specifically the disturbing ideas of Dr. Moreau (Charles Laughton).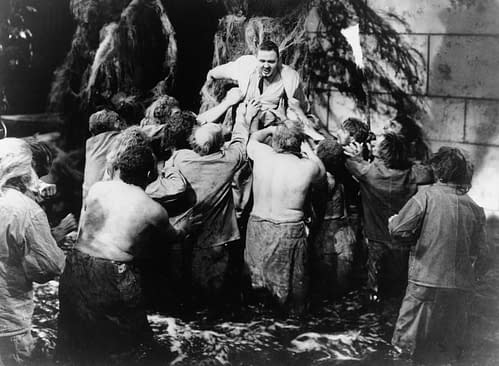 Moreau is the archetypical doctor-who-plays-God, meddling in the 'natural order' of things and attempting to create a new race of human animals. Stumbling onto Moreau's island and into his insane world of cross-bred animal men – including the seductive Lota (Kathleen Burke), a 'panther woman' – is Edward Parker, played by the square-jawed and all too wooden Richard Arlen.
This stranger in a strange world opens the door for us to step through, as we are introduced alongside him to the strange and dark experiments going on, but ultimately it is not this hero character that one is interested in in Island of Lost Souls. The star of the film is without a doubt Laughton as Moreau and the film is very much something that circles around his central performance. In truth this loose adaptation of H.G. Wells' novel is a little weak at times, with some clunky dialogue and too much crammed into too short a running time, but the film is more than saved by Laughton's compelling 'central' performance.
Long delayed, this release comes in the wake of The Criterion Collection's Region A release and draws on the same source material (two 35mm positives and a 16mm private screening print). Although I have not had a chance to compare the two releases side-by-side, reliable sources indicate that there is very little to separate the two beyond slight variances in contrast, a common difference between MoC and Criterion (see also Harakiri). The multiple sources used for this transfer were clearly in a reasonably poor shape and the film has a number of visible scratches and marks. The transfer is sensitive though and these issues have not been digitally scrubbed along away with a number of important details. Some work has clearly been done but there are no obvious signs of digital manipulation. The audio (stereo) is clear but also suffers from being a little rough around the edges, with noticeable sibilance in places.
The extras on this disc are a little disappointing when racked up against the Criterion release (two interviews and a trailer here) but for those locked to Region B this is still a great buy.
Island of Lost Souls is available to buy now.
Writing about a film as critically adored and much discussed as Double Indemnity inevitably results in treading similar ground to those that have gone before and it's particularly hard to introduce such a film with the requisite amount of praise without simply gushing. Added to this is the lingering thought in my head that I could never write such a wonderful intro to the film as the first paragraph in Bosley Crowther's New York Times review from 1944,
The cooling-system in the Paramount Theatre was supplemented yesterday by a screen attraction designed plainly to freeze the marrow in an audience's bones. "Double Indemnity" is its title, and the extent of its refrigerating effect depends upon one's personal repercussion to a long dose of calculated suspense. For the sole question in this picture is whether Barbara Stanwyck and Fred MacMurray can kill a man with such cool and artistic deception that no one will place the blame on them and then maintain their composure under Edward G. Robinson's studiously searching eye.
Whilst Crowther moves onto areas in his review that I don't entirely agree with – he believed that the structure of the plotting damaged the film – that opening paragraph has stayed with me since I first read it, in part due to it being a wonderful piece of prose but mostly because it so perfectly distils one of the film's greatest strengths, its icy coolness.
The cold, calculated behaviour of the two protagonists, Walter Neff (Fred MacMurray) and Phyllis Dietrichson (Barbara Stanwyck) is the fertile ground for Wilder to play out a number of chillingly suspenseful scenes whose clever structuring and intelligent framing is still providing influence for filmmakers today. And so it should. It is clear now, with the benefit of hindsight and the ability to watch a great number of Wilder's films again and again, that he was a true master of the cinematic medium and Double Indemnity is a prime example of the careful and brilliant way in which he told a story on screen.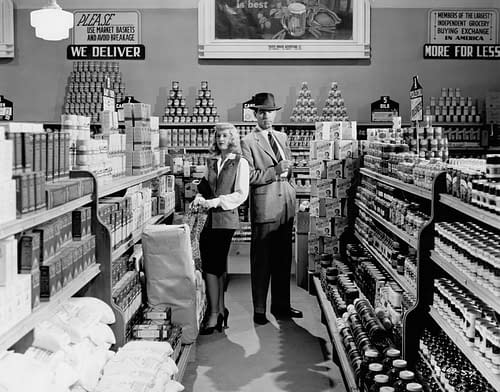 Like Neff and Dietrichson attempting to pull of the perfect murder, Wilder is crafting a film with skill and delicate calculation. Unlike the doomed pair though Wilder is entirely successful. Credited with a place in history thanks to a reappraisal of the so called 'Film Noirs' of the forties and fifties in later decades, Double Indemnity is more than simply an archetype of a film type. A satisfyingly delivered thriller, plotted like a knife slowly twisting in one's gut, Double Indemnity is beyond everything else a thoroughly gripping film experience and one that it is a pleasure to return to frequently.
The new Blu-ray from MoC boasts a superb transfer and one that for any who have only seen the film on DVD or television, such as myself, will almost certainly prove revelatory. In an early scene, for instance, Neff comments on the dust in the air and one can actually see the dust about which he speaks, a detail previously masked by low quality viewing experiences with poor transfers. A small difference but these quickly add up and the experience of watching the film on Blu-ray is a absolute treat. There are a few minor issues, the odd flicker and even a couple of missing frames, but these are nothing to be concerned about as this is otherwise a good quality dupe negative sensitively treated, resulting in a fantastic transfer.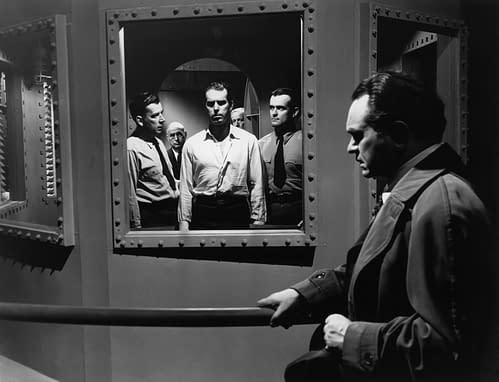 The special features are also of a high standard, with a commentary from Nick Redman and Lem Dobbs ported from the US DVD, the Shadows of Suspense documentary, a trailer and a radio adaptation of Double Indemnity, which again features Barbara Stanwyck and Fred MacMurray but sadly not Edward G. Robinson. The release also comes with a great booklet filled with interesting interviews with Wilder, Cain and Chandler and an excerpt from the screenplay detailing the alternative ending, which is now sadly lost.
Double Indemnity is available to buy now.
One of the greatest horror films of all time, The Lost Weekend is not a pleasant film to watch but it is a gripping, disturbing and utterly brilliant film from the masterful Billy Wilder.
Wilder traps us with its protagonist, Don Birnam (Ray Milland), in the nightmarish world of an addict. In this case the addiction is alcohol and Wilder and co-screenwriter Charles Brackett (adapting from Charles R. Jackson's novel) present an all to vivid depiction of a man struggling with the very serious sickness that is alcoholism.
The Lost Weekend allows us a glimpse inside this sickness in a way that few films have managed, even in the sixty plus years since. As Birnam struggles with his desire to get just one more drink we are placed alongside him, almost willing him on in his pursuit, the desperation he experience reaching such a painful level that we like him just want it to be over. But there is little respite and so his plight continues and the horror builds and builds.
In what is one of the film's most uncomfortable and tense sequences Birnam attempts to buy alcohol only to find every shop closed. Closed shops could be considered such a minor problem to most but here it is amplified to an agonising degree when Birnam's need for a drink is factored in. Wilder knows just when to amp up the tension too but also allows the right amount of space for the story to develop alongside the increasing pains of Birnam's addiction.
As his plight escalates the effects of his dependency get stranger, with disturbing hallucinations – in a scene sold brilliantly by Milland's heightened performance – appearing just in time to almost tip him over the edge. These hallucinations are also, interestingly, predicted by the enigmatic Bim, an orderly in an alcoholic ward that Birnam washes up in. Birnam claims at one point that his is a man split in to, the writer and the drunk, but maybe there is another, the cold hard voice of reason – Bim (the name is a contraction of Birnam). Whether Bim is imagined or not though, he represents truth and speaks about the reality of Birnam's situation, an important counterpoint to the self-absorption that consumes Birnam and in many ways the film, although the former is for the worse and the latter is for the benefit of the story.
I have yet to see a better or more honest film about addiction and I doubt I ever will. Raw and unpleasant, The Lost Weekend is essential viewing, even if it may be hard to sit through at times.
This new Blu-ray from Masters of Cinema continues their unbroken record with Universal releases and continues to beg the question as to how can all these releases be so spot on whilst Universal continue to go a little overboard with the DNR-ing on their own releases. The Lost Weekend looks simply wonderful with clear definition in the black and white image. Blacks in particular are rich and deep with grain always present and mostly consistent.
The Lost Weekend Blu-ray offers a fantastic set of special features and represents a really great value purchase. In addition to a video introduction from Alex Cox, a trailer, a radio adaptation and a decent sized booklet, the disc also contains all three parts of the BBC Arena documentary on Wilder, Billy, How Did You Do It? Directed Gisela Grischow and Volker Schlöndorff, the documentary is fantastic and clocking in at just over three hours it provides a great overview of Wilder's career.
The Lost Weekend is available to buy now.
Enjoyed this article? Share it!