We've talked about Tony Lee's Dodge and Twist, his 'sequel' to Oliver Twist a few times over the years on this site, most recently three years ago when it was announced that Producer Ahmet Zappa had hired Edgar Wright to rewrite his completely-unrelated-screenplay.
Back then we went into detail on the long and convoluted history of the story – from a graphic novel pitched and sold to Larry Young and AIT/PlanetLar back at a San Diego Comic-Con in 2006 but never completed, to conversations Tony had with Ahmet Zappa in 2008 and 2009, when Zappa worked for Kingdom Comics; conversations that involved Dodge & Twist in passing, but which seemed to inspire Ahmet to create his own, almost identical film with Columbia / Sony in 2011, also (completely coincidentally) named Dodge & Twist, a development that led to Tony Lee spending much of 2011 writing his story out as a novel and releasing it through Amazon as an e-book, to ensure that his idea was still out first.
In 2013 the screenplay had changed, the writer had changed, and Ahmet went to great lengths in his press release to state that his movie was nothing to do with Tony Lee's book, with the motivations changing and timeline stretched almost a decade. And in 2015, Edgar Wright was brought on to turn the caper into a more steampunk-inspired movie. From then, we've heard nothing.
Until now.
Because on Monday, Tony tweeted this image:
Posted without comment… #BigReveal #Friday #Excited #Shhhh @JJoyce_JCJoyce @will_h89 @RealMattLucas @StephenMangan @karatointon @Michaelsocha @tgoodmanh pic.twitter.com/O7NVa6c5mA

— Tony Lee (@mrtonylee) November 12, 2018
Now this is a pretty impressive set of faces, as of now Amazon/Audible will start taking pre-orders for the full-cast audio recording of Dodge & Twist, adapted by Tony himself into twelve half-hour episodes, and with a cast including Matt Lucas (Doctor Who, Little Britain), Steven Mangan (Green Wing, Episodes), Kara Tointon (Eastenders), Michael Socha (Being Human, Once Upon A Time in Wonderland) and Tom Goodman-Hill (Mr Selfridge, Humans), among others, and including newcomers James Joyce (Downton Abbey, The Musketeers) as Oliver Twist and Will Howard (Doctors, Terry Pratchett's Eric) as Jack Dawkins, otherwise known as the Artful Dodger.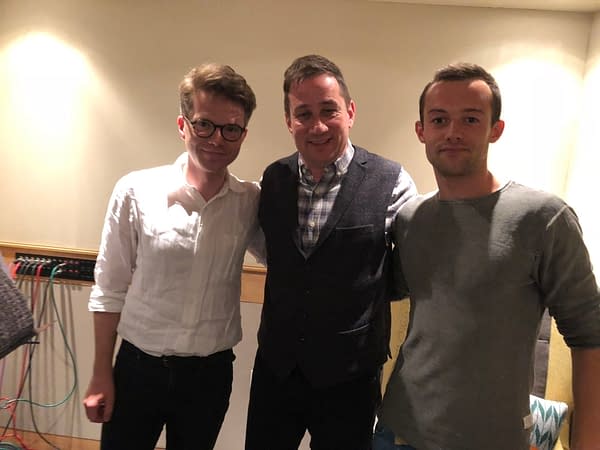 Tony is no stranger to audio drama, having written Doctor Who, Bernice Summerfield and Dorian Grey audio adventures for Big Finish over the years and a recent Robin of Sherwood full cast audio for ITV Studios / Spiteful Puppet, and director David Darlington has an extensive resume in audio dramas. With an award-winning cast and crew, and adapted from his own book, this certainly seems to be a dream project and surely a winning move so far in this battle between the 'Dodgers', so we contacted Tony to see whether he had any words for rival Ahmet Zappa.
'I wish him all the best with the film,' he said to us. 'To be honest, bar the title names and the vague 'action' setting, these projects are pretty much different beasts now. If anything, I should actually thank Ahmet. If he hadn't set up his Dodge & Twist at Columbia, I'd probably have never done anything more with it. The graphic novel was pretty much dead for three years by then.  Basically, without him, I wouldn't have written the book, Audible wouldn't have optioned it, and I wouldn't have been able to watch this amazing cast act out my words. So thanks, Ahmet! Next time I'm in LA I'll buy you a coffee. And if you ever need someone to rewrite the script, just call my agent.'
However, Dodge & Twist will be available on Audible from the 12th December 2018, costs one credit for members and is free with Audible's 30-day trial. Or, if you don't want to join Audible, you can buy all six hours for a one-off fee. Meanwhile, the Amazon E-book that the series is based on has been reduced in price..
It's rumoured that Dickens wanted to return to his classic novel Oliver Twist, to bring him back into a later book as an older character, but he never managed this before he died. However, if Oliver had returned, what would he have been like? Would the scars of his childhood affect the man he would become? And what of 'Dodger', sent to a land half way around the world, his friend, mentor and master dead because of Oliver?

Dodge & Twist is that story. The tale of two boys, twelve years later, returning into each other's lives – for both good and bad.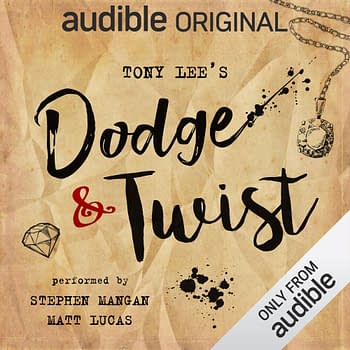 Enjoyed this article? Share it!