Max Landis Tweets Images And Videos From His Directorial Debut Me Him Her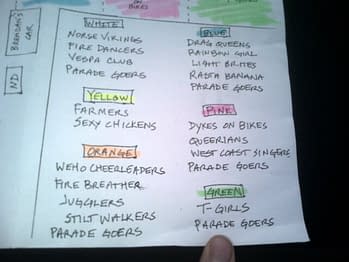 Max Landis, the writer of Chronicle, is currently hard at work on his directorial debut Me Him Her and is sharing a great deal of photos and videos from the set on his Twitter feed and the Me Him Her Twitter feed.
Brendon dug up some information on the film last month and it all sounds very interesting indeed. The description from the press release promised the following,
"'Reality Bites' on acid," pic is a quarter-life-crisis tale set in Los Angeles that features three young leads, at least one of whom is struggling with their sexuality. Exploring sex, love and friendship in what Landis describes as "the weirdest, most surreal way possible," the story ultimately emphasizes that conceptions of self should be flexible.
Landis Tweeted that there's more to it than that too,
Well, worth mentioning, @MeHimHerMovie also has horror, swashbuckling, adventure, surreal, satirical and science fiction elements.

— Max Landis (@Uptomyknees) July 31, 2013
He previously promised that this film would be "insane". I'm starting to believe him.
Landis has also been posting videos to Twitter, including this one of Landis directing a child eating a sandwich which has seemed to be very popular with his followers.
[youtube]https://www.youtube.com/watch?v=yrWQqJth77g[/youtube]
Something tells me that's not going to be too relevant to the finished film.
Max Landis shares his birthday with his father John Landis and to celebrate their birthday this week he also posted a video from the set of Me Him Her of the cast singing happy birthday.
[youtube]https://www.youtube.com/watch?v=HEl3IkS9Vzs[/youtube]
So there's a pretty big parade in the film at some point it seems.
Amongst the images posted by Landis is one of him with Scott Bakula and Geena Davis who, it would appear, are also in the film.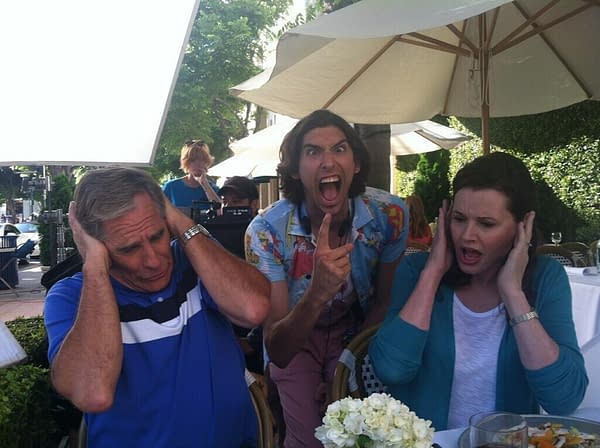 I feel like I know so much about this film but at the same time so little. We'll bring you more information as we get it but I suggest following Landis on Twitter, as he's sharing a great deal on there.