It seems strange that there had been zero female composers across all the live-action superhero films from the big studios like Warner Bros. Pictures, Sony, and Marvel Studios until Captain Marvel brought on Pinar Toprak.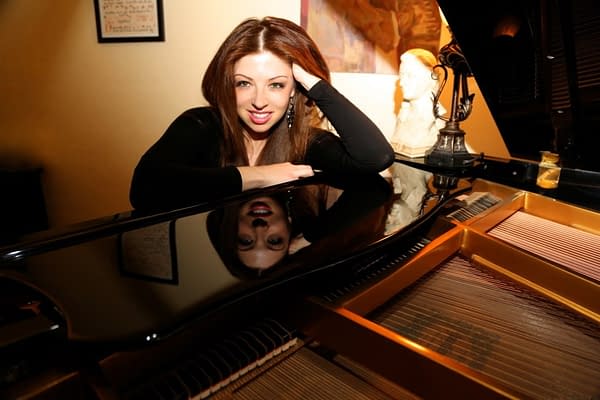 She grew up in Turkey, loving Superman, she says. This makes perfect sense when you listen to her score for SYFY series Krypton. Toprak joined Shirley Walker (Superman: The Animated Series) as the only female composer to play in the world of the Justice League founding member.
"Growing up, there were so many people who told me what I couldn't do. No man was ever asked, 'Do you think you got this action film because of your gender?' I hope it's a question that's not going to be asked in the near future, or ever again. This is going to be the norm. I never had a day in my life when I wasn't a woman or a composer. Those were who I am from the start," Toprak told Variety.
"It's no secret that both we and Marvel care about trying to be proactive in terms of hiring more women," Anna Boden, first female director of a Marvel Cinematic Universe film (who co-directed with Ryan Fleck) said. "She really elevated the film."
Fleck added, "Hopefully she'll pave the way, and people won't feel the need to talk about 'women directors' or 'women composers' anymore. It'll just be routine."
As to Toprak's deep connection to the story, the composer brought up that iconic series of shots of Carol Danvers getting back up again throughout her lifetime: "Every time she falls, she gets up. I've had a lot of falling moments in my life as well, then getting up and learning to get up faster and going even farther the next time. I definitely have a deep connection to the story."
Variety also spoke with Toprak on the red carpet at the Los Angeles premiere of Captain Marvel, where she revealed her love of the character.
The 21st MCU film stars Oscar winner Brie Larson as Carol Danvers, Samuel L. Jackson as Nick Fury, Jude Law as the commander of Starforce (who may or may not have two names), Clark Gregg as Phil Coulson, Lee Pace returning as Ronan the Accuser, Djimon Hounsou as Korath the Pursuer, Gemma Chan as Minn-Erva, Ben Mendelsohn as Skull General Talos, Lashana Lynch as Maria Rambeau, Algenis Perez Soto, McKenna Grace, and Annette Bening in as-yet-undisclosed roles.
Captain Marvel opens in theaters worldwide March 8th, which just happens to be International Women's Day.
Enjoyed this article? Share it!