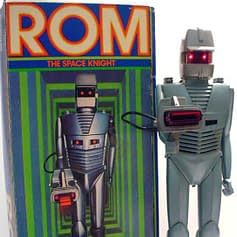 The Amazing Adventures of Kavalier & Clay's Micheal Chabon and Saga's Brian K. Vaughn will help bring ROM to the screen.
According to The Hollywood Reporter, Hasbro has assembled its writers room to create a cinematic universe for its toylines with Chabon and Vaughn as just two of the writers tasked with making brands like G.I. Joe, M.A.S.K., ROM, The Micronauts and Visionaries gel into a single film universe.
The group will be overseen by A Beautiful Mind scribe Akiva Goldsman and include Lindsey Beer, recently hired to adapt Kingkiller Chronicle for Lionsgate, Luke Cage showrunner Cheo Coker, Spider-Man: Homecoming writers John Francis Daley and Jonathan Goldstein, Black Panther feature film writer Joe Robert Cole, Dark Tower screenwriter Jeff Pinkner, Dogfight writer Nicole Riegel and Tomb Raider reboot co-writer Geneva Robertson.
As with The Transformers series, the Hasbro Cinematic Universe films will be part of the company's long-term deal with Paramount Pictures and THR reports the story group's first meeting was held on the Paramount lot this past Monday.
But it is unclear which of the properties will see its cinematic transformation first. Rom certainly receives a lot of love on the Internet, but will that be enough to get him into the starter position? Perhaps another attempt to kickstart G.I. Joe into an ongoing film concern will lead the pack.
Enjoyed this article? Share it!