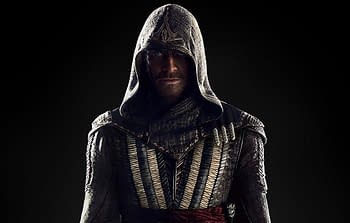 Though actor Michael Fassbender has brought a certain credibility to the upcoming Assassin's Creed feature film, he told Entertainment Weekly that he never played any of the games in the series before signing on to star in the film.
"I've played it since," he said. "mainly to get an idea of the physicality of the character." Fassbender discovered the parkour element featured in the games and the on-going covert war between the Assassins and the Templars. "We believe the whole concept around it is special and want to service that the best we can," he explained. "The fans are really passionate: very specific and they expect accuracy and historical detail."
Though a certain engagement with a property tends to be helpful when making a film, like the Marvel movies, a handful of films have benefited from an outsider view. Star Trek II: The Wrath of Khan famously employed the talents of screenwriter and director Nicholas Meyer, who admitted to having no particular love for Star Trek when he took the job. He later found an affection for the characters and returned to write them in Star Trek IV: The Voyage Home and direct them one final time in Star Trek VI: The Undiscovered Country.
Fassbender may find himself on a similar journey. But as a video game adaptations are still the riskiest of gambles, it remains to be seen if the actor will have a chance to find that affection over multiple installments.
Assassin Creed takes its hidden blade to theaters on December 21st, 2016.
Enjoyed this article? Share it!