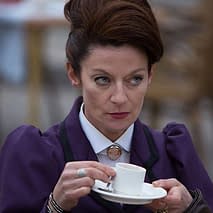 Fans of Michelle Gomez's version of The Master — also known as Missy — will be happy to hear the character may be returning for another clash with her best friend/sworn enemy in the 2017 season of Doctor Who.
According to the Doctor Who News Twitter account (via Cultbox), Gomez made the announcement herself at MegaCon in Orlando on Sunday. The BBC has yet to make a formal announcement, but a season without Missy would be an odd one.
Gomez first appeared as the new Master in Peter Capaldi's first full story as the Doctor, "Deep Breath." Identified only as "Missy," she seemed to be collecting the souls the Twelfth Doctor allowed to perish throughout the eighth season of the show, revealing herself to be a new regeneration of the Doctor's best enemy in the penultimate episode, "Dark Water." She returned in last season's debut two-part story, "The Magician's Apprentice/The Witch's Familiar," where she was last seen as a captive of the Daleks.
Of course, the Master has turned the tables on the Doctor's archfoes before.
Doctor Who returns for a Christmas special later this year before a third full season with Capaldi as the Timelord debuts in 2017.
Enjoyed this article? Share it!