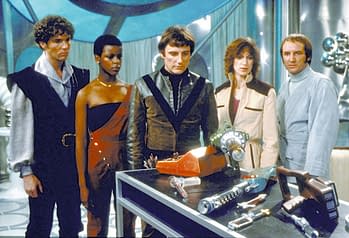 Last we heard, the US distribution for the proposed do-over of Blake's 7 was set to see the show air on SyFy. I guess this may still be the case, though we'll need some clarification as The Financial Times are now reporting that Microsoft have stepped in to back the show, looking to offer it through their own streaming service:
Microsoft has agreed to finance a remake of the cult BBC TV science fiction series Blake's 7 for its Xbox Live digital network, according to people familiar with the situation. The deal represents the latest move by the technology company to create original content.
It's said that Microsoft haven't committed to funding a whole series, though. It seems like, right now, they're just looking at a pilot.
Perhaps this planned comeback for Blake's 7 is on dodgier ground than previously reported. Here's the old news, though, assuming it still stands in the face of the Microsoft dealings:
The new version of Blake's 7 is to be directed by Martin Campbell, the man who rebooted Bond twice, and with great success each time… though he did also get caught up in that whole Green Lanternmess. Poor chap.

With Campbell on board, Freemantle Media have taken the project to MiPCom, and issued an official little teaser blurb:

The year is 2136, Blake wakes up on one side of the bed. He reaches for the other side. There's nobody there. As reality sets in, this handsome ex-soldier sits up, and looks at a photo of his wife Rachel. Beautiful. Deceased.

…and that's it.

Okay, maybe not. There's a change of gear and then:

A revolutionary reinvention of the long-running BBC series made in the late 1970s, Blake's 7 tells the story of seven criminals – 6 guilty and 1 innocent – on their way to life on a prison colony in space, who together wrestle freedom from imprisonment. They acquire an alien ship which gives them a second chance at life and become the most unlikely heroes of their time.

The new series has been written by Joe Pokaski, who has experience with Heroes and CSI, as both a supervising producer and writer.
I like Campbell, and I think there's a lot of potential in Blake's 7. Microsoft have certainly got a better quality control reputation than SyFy, so perhaps this is all nothing but good news.
Though, actually, if I'm being honest, that's me damning SyFy an awful lot more than praising Microsoft.
Enjoyed this article? Share it!