Milla Jovovich May Be The Blood Queen In New Hellboy Movie
The upcoming Hellboy reboot film which may or may not be titled "Hellboy: Rise of the Blood Queen" may have just cast its lead actress and villain.
Despite the report earlier this week the Hellboy film was dropping the "Rise Of The Blood Queen" subtitle, it would appear that's still more than likely the story the film will follow. Deadline just dropped the news that Milla Jovovich is in the end stages of talks that would see her in the title role of the Blood Queen.
No stranger to genre films, the Resident Evil and 5th Element star has some serious abilities when it comes to the action-science fiction-fantasy realm.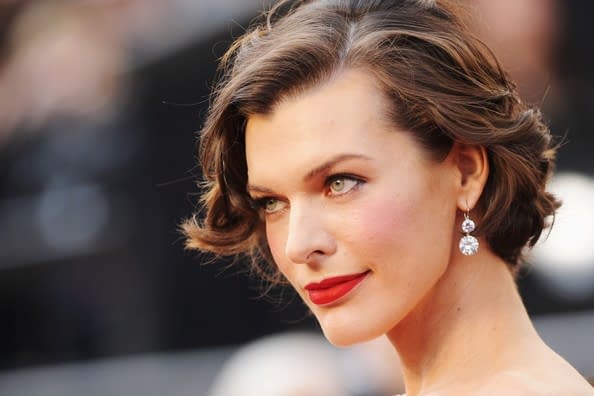 It was also previously reported that Ian McShane (American Gods, Deadwood) had joined the cast as Professor Broom, mentor and father figure of Hellboy.
Neil Marshall is on board to direct, and with such credits behind him as Black Sails, Game of Thrones, Constantine, Hannibal, and Westworld, this new Hellboy film could really be something special. (That's not to say we don't love the original, because we do.)
Stranger Things' David Harbour has been tapped to play Hellboy, and it turns out Big Read is Harbour's favorite comic character. In an interview with The Nerdist, he said:
"I really do think those Mike Mignola Hellboy comics are so beautiful and he's such a hero for America that we live in today. I definitely think Hellboy is an antihero. He was kind of born into it. It wasn't something like Batman where he chooses to go and fight crime. He was just born this weird half-demon spawned by Nazi occultists and saved by these dudes who tried to raise him right.

For him, it's a sense of discovery. His actual destiny as a 'hero' is to end the world. He is the beast of the apocalypse. So, in a way, his struggle to be a superhero is to just not do the thing that he's destined to do."
Lionsgate is finishing up talks to distribute the live-action film, which already is looking at an R rating. This, of course, is subject to change as the production gets moving, which could happen as early as September.
We'll let you know when any more information about this film is confirmed.