Mindless Speculation: Could the Joker Movie Cross Over With Wonder Woman 1984?
Okay, so this is purely mindless speculation, as suggested by Bleeding Cool reader Ashru Khan. And bear in mind there is no actual evidence for this whatsoever. But it felt rather fun to consider.
During the Joker movie, we see the impact of Arther Fleck's actions play out across the media, newspapers and television. And while it seems unlikely, in any age, that television news shows would play out graphic footage of a murder of a prominent individual, uncensored, again and again, it did show a bank of television screens showing these images, and other unconnected images from across the media.
And Ashru thought he'd seen some of those images before. In imagery for the upcoming movie, Wonder Woman 1984.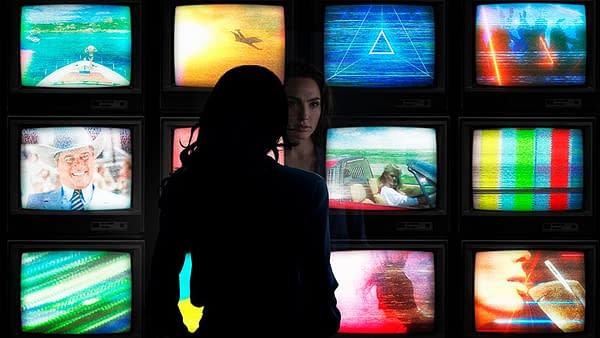 While Joker has a lot of seventies imagery, the use of home video recorders suggest a mid-eighties setting, especially if Fleck was going to be able to afford to buy one. The movie at the cinema was the 1981 Zorro, the Gay Blade, but the movie established that the Waynes had no issue watching movies outside of opening weekend.
Could Joker also be set in 1984? And while Todd Phillips may not have wanted to cross Joker over into any other continuity, it was notable that it fitted in pretty much with established bat-continuity. Could Wonder Woman launch harpoons at Joker and drag it into being part of the DCEU? All it would take is for one of those screens above showing a clip of that uncensored footage.
Just mindless speculation. Nothing more. Wonder Woman 1984 is out in June 2020. Plenty of time to edit it in if someone wanted to…
Either that or it's Adrian Veidt again. Your call.